Inkless Stretch Mark Revision
Stretch marks come in a variety of sizes, colors, and shapes and commonly occur due to rapid growth, weight fluctuations, or pregnancy.
Even though all of us have them, these marks on our tummy, knees, breasts, underarms, and legs can definitely make us feel self-conscious.
But the GOOD NEWS is that Inkless Stretch Mark Revision can help improve the appearance of those unsightly stretch marks up to 90%… usually in between 1 to 3 sessions.
Without harmful lasers
Without painful surgeries
Without any downtime
And that means that you can be feeling confident in your swimsuit, shorts, or tank top in no time flat!
Photo Gallery
Our Clients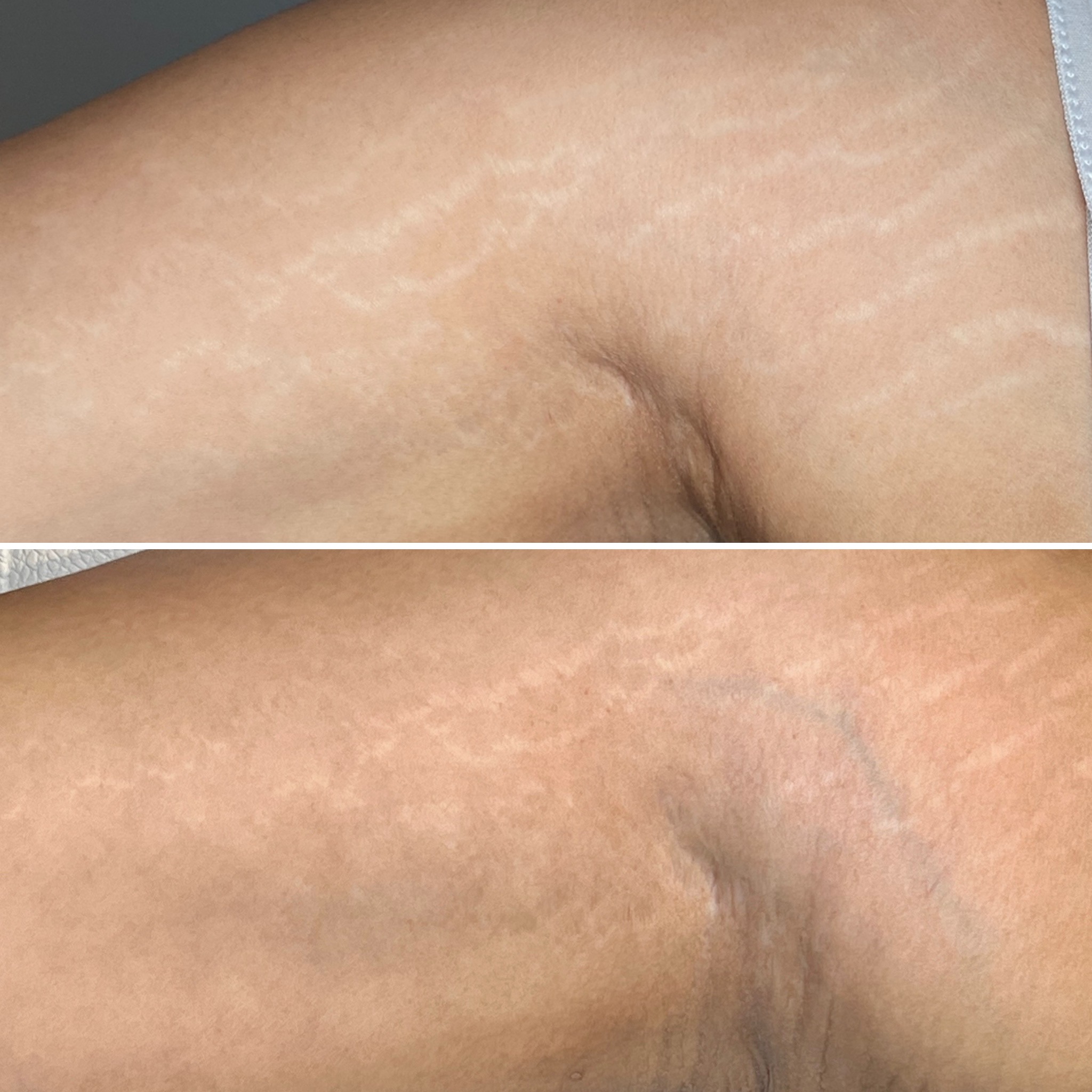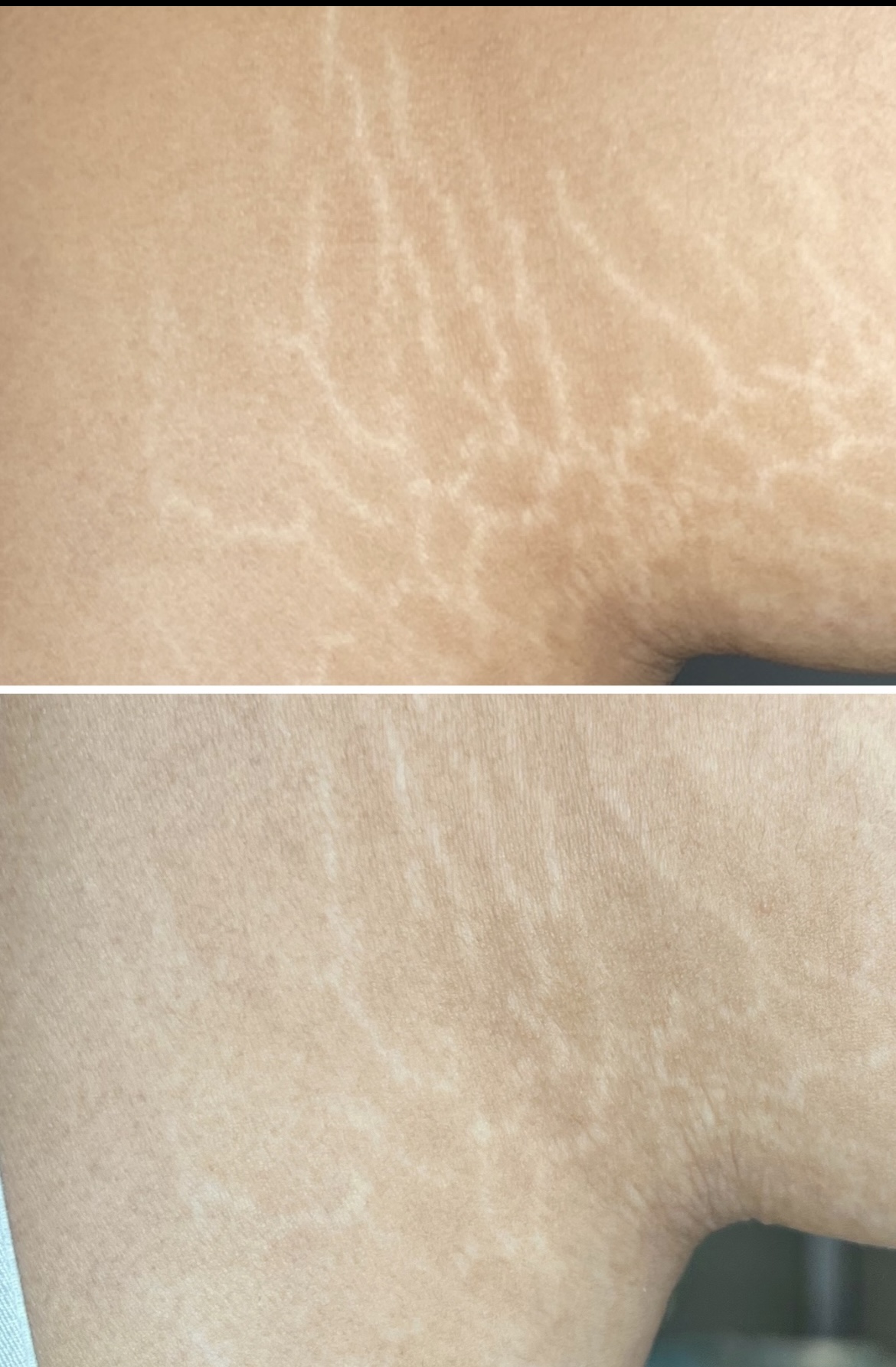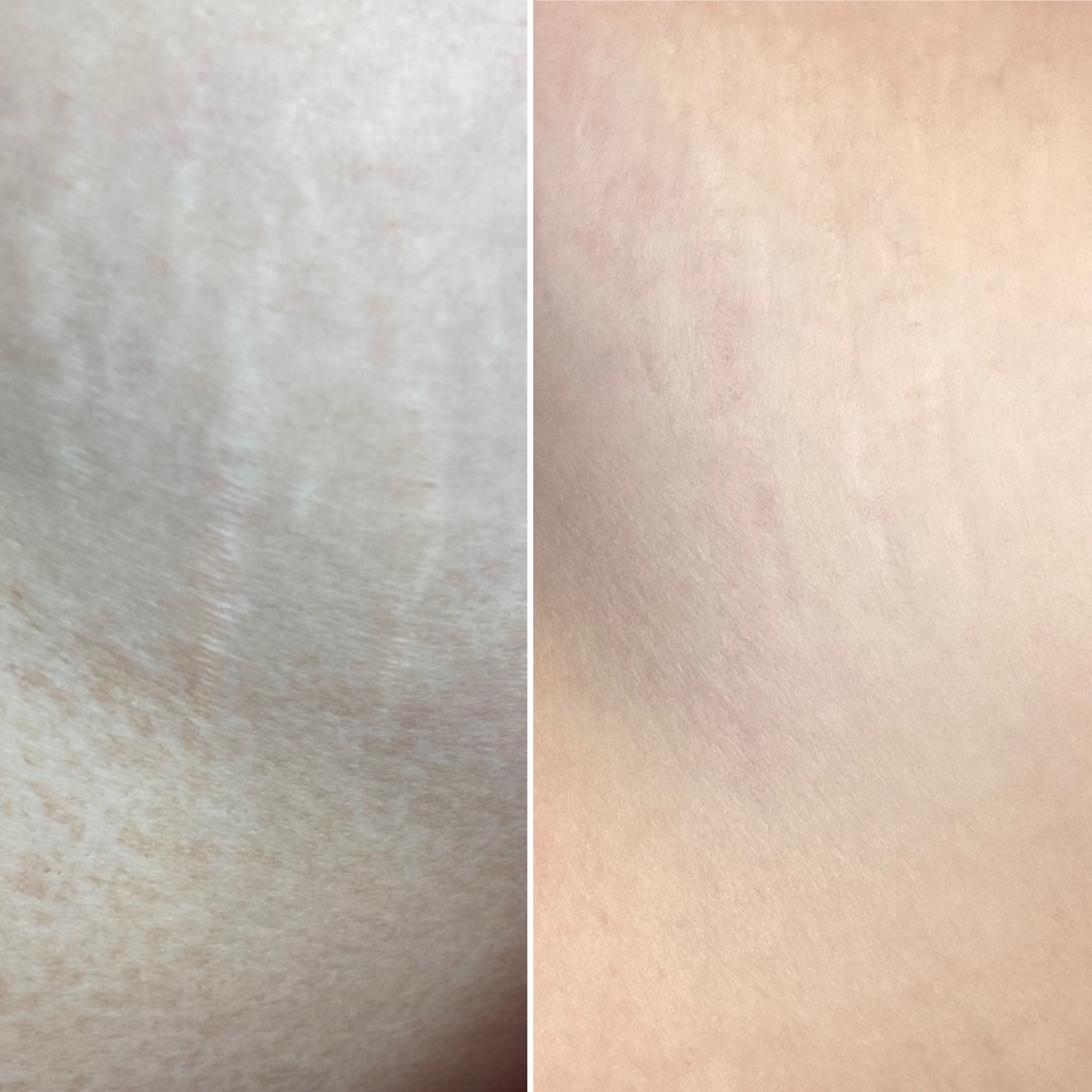 Frequently Asked Questions
How does Inkless work?
Inkless Stretch Mark Revision utilizes both tattooing techniques and a vitamin serum which supports improved texture and color of the skin. The serum combined with the needling triggers the body's natural healing response to make the stretch mark less noticeable.
Who is NOT a good candidate?
The following current conditions exclude you from being an eligible candidate:
Pregnancy/Lactating
History of Keloid scarring
History of easy/excessive hyperpigmentation, hypopigmentation or pigmentation disorders
Bleeding Disorders
Cancer
Currently taking antibiotics or steroids
Currently receiving chemo/radiation treatment •History of Herpes Simplex (cold sores or fever blisters)* *Must be on preventative dose of Acyclovir/Valtrex in order to participate in Inkless Stretch Mark/Scar Revision if area to be treated is prone to cold sores/fever blisters/or Herpes zosters.
Unhealthy or broken skin
Inflammation
Extensive sun or tanning 3 days prior and 8 weeks post treatment
Accutane in the past 6 months to 1 year in area to be treated
Glycolic acid products, Retin-A or Renova in the last 4 weeks in area to be treated
Waxing the area to be treated in the past 7 days
Any other chemical peel in area to be treated within 8 weeks of the treatment
What is the healing process like?
You may experience redness, swelling, tightness, an/or "sun burnt" feeling for the first few days. From days 4 to 7, the area will be dry, flaky, and may possibly exhibit a small amount of scabbing. Between week 2–8 the area will appear more "normal," look less irritated and be flatter.
Is it painful?
There's some discomfort, but it's typically not painful. Most people only rate the discomfort level between a 2 to 4.
Are there any risks with Inkless Stretch Mark Revisions?
Risks involved with the Inkless Stretch Mark/Scar Revision include, but are not limited to:
Mild to moderate discomfort or pain
Redness and/or swelling
Itching and/or irritation
Sun sensitivity
Skin sensitivity
Pigment changes
Scarring (in extreme cases)
Allergic reaction
Bacterial infection
Skin peeling or flaking up to 14 days after the procedure
Will Inkless Stretch Mark Revision work on hyperpigmented (darker) stretch marks?
It is possible to use Inkless Stretch Mark Revision to improve lightly hyperpigmented stretch marks. However, it is advisable to perform a patch test before proceeding with the full area.
Will this work on deep stretch marks?
Yes, it can help revise tone and texture of stretch marks that are depressed.
Will this work on wide stretch marks?
Yes. While scar camouflage (done with pigment) works best on narrow stretch marks, Inkless Stretch Mark Revision works well to improve stretch marks of ANY width! It can improve tone and texture of wide, paper thin stretch marks on legs, stretch marks after pregnancy, stretch marks on boobs. It's a great non-surgical way to get rid of stretch marks and make them not as noticeable.
What is needed to be done for aftercare?
Cleanse the stretch marks twice a day with a mild antibacterial soap and apply the provided aftercare ointment to keep the skin moisturized. After week two, you can begin massaging the area with the provided scar gel. Wear a minimum SPF 30+ during sun exposure for the first 8 weeks after treatment.
What are post care instructions for stretch marks?
Your technician will provide you with verbal aftercare instruction as well as a printed aftercare sheet at the time of your appointment. You may also view by downloading the after care instructions here.
How many sessions are typically needed to improve stretch marks?
Typically, optimum improvement of stretch marks can be achieved in 1 to 3 sessions.
Do I need to book a consultation first?
Yes, we require a consultation first to ensure that you are a good candidate for Inkless Stretch Mark Revision. We also need to see the areas we are treating in order to know how long of an appointment to schedule.
What is the cost per area / per session?
Inkless Stretch Mark revision is $375 per area, per session.
Example of individual areas are:
Tummy
Breasts (both)
Inside of knees (both)
Inner thighs (both)
"Love handles"
Underarms (both)
IMPORTANT: All stretch mark revision appointments require a consultation prior to scheduling your session.
Schedule Your Stretch Mark Consultation
Find Out More!