Create the Illusion of a Natural 3D Areola and Nipple
We Use Micro-pigmentation
Nipple tattoos for breast cancer survivors are the ideal solution for women who have undergone mastectomies (whether it be a DIEP flap, latissimus flap, or implant reconstruction—with or without nipple reconstruction). Nipple tattooing, often referred to as areola tattooing or areola repigmentation, is an intricate intradermal pigmentation technique.  3D nipple tattoos after mastectomy can help you to recover physically and emotionally from the scars of breast cancer.
Nipple tattoos, or areola repigmentation, can also help men and women who have irregularly shaped or faded areolas after a breast lift, breast reduction, or gynecomastia surgery.
After FTM or MTF top surgery, transgender patients often are impacted by areola areas that are too small, misshapen, or not large enough to look "normal." Areola tattooing can allow for a more natural appearance, significantly boosting self-confidence.
Photo Gallery
Our Patients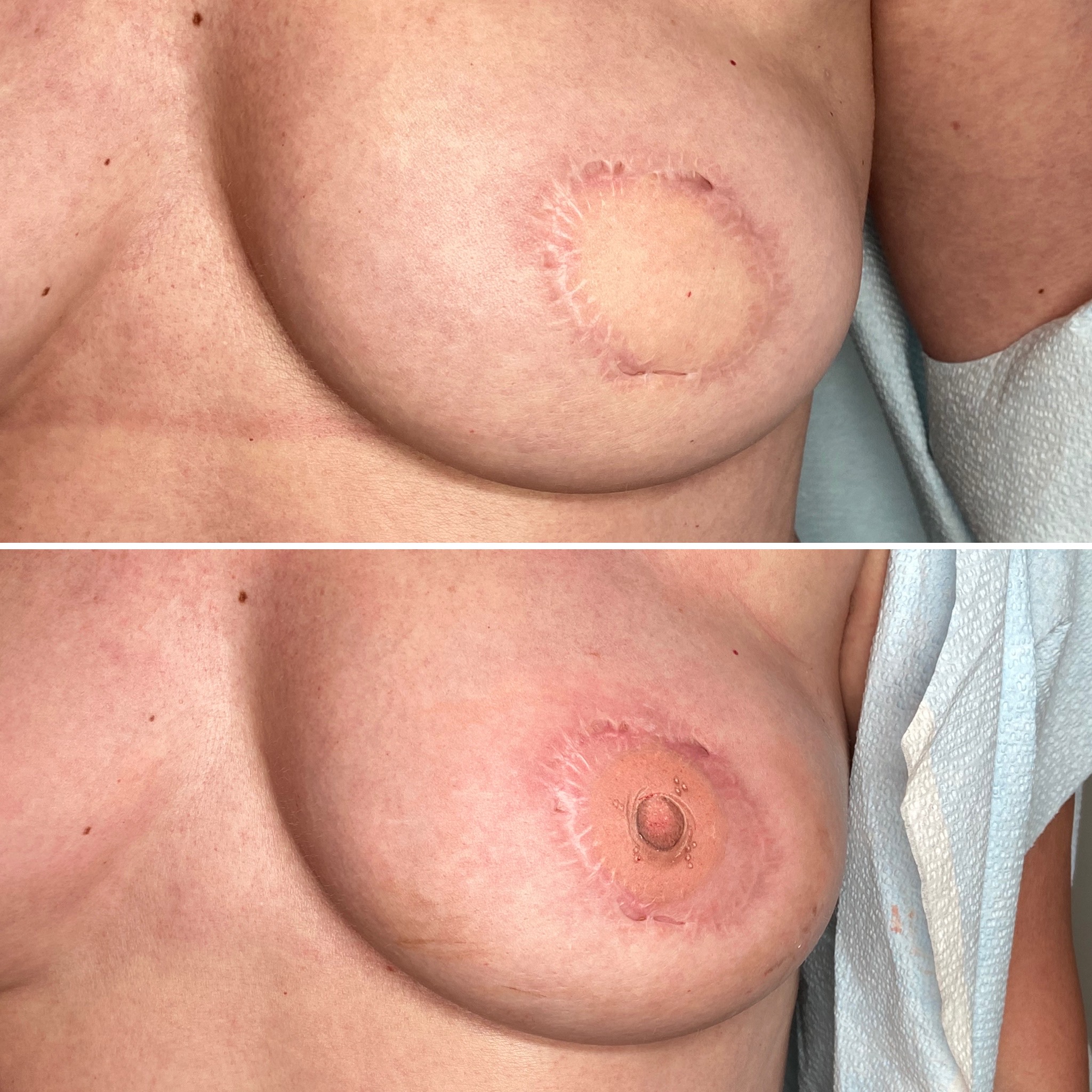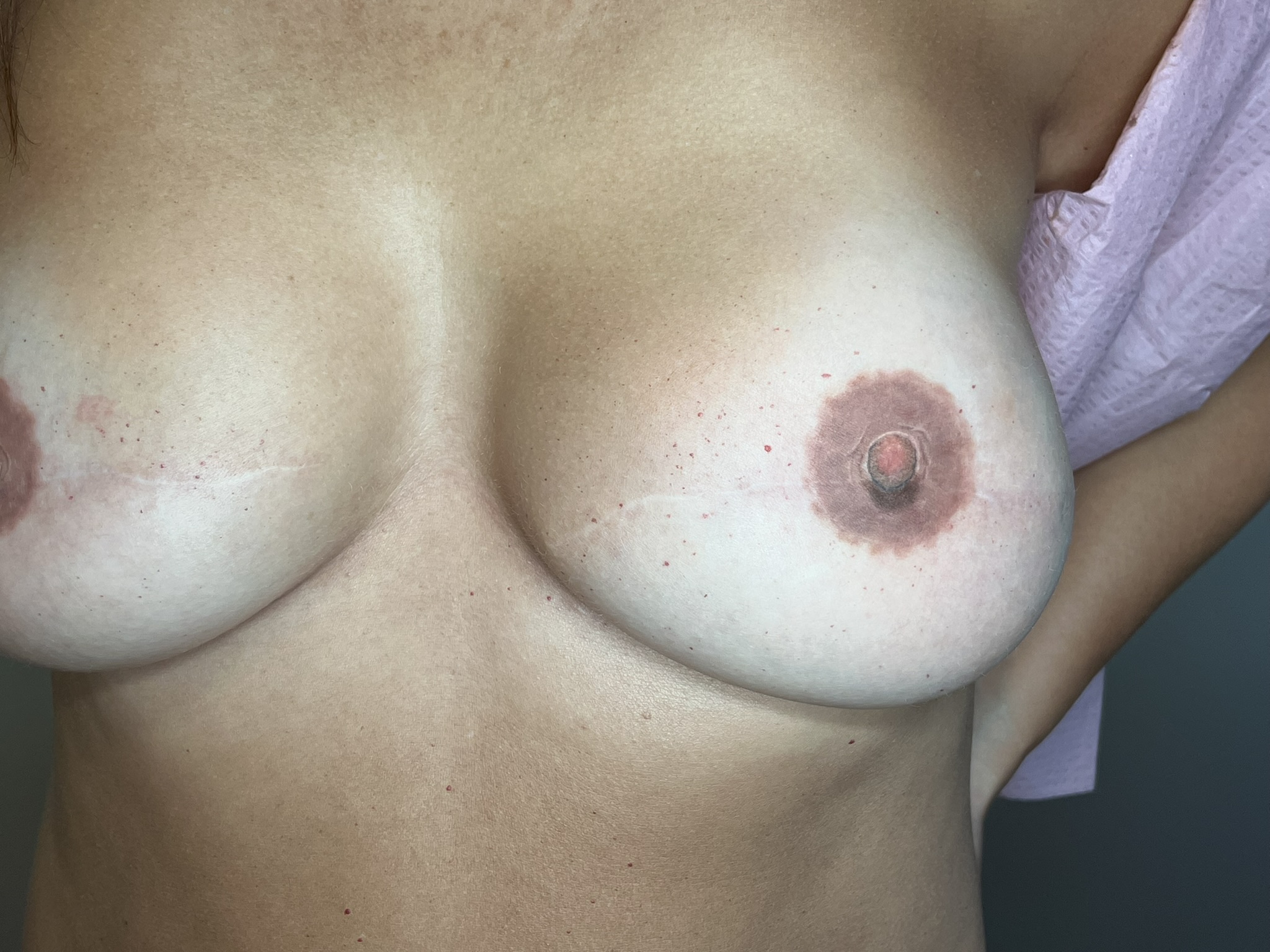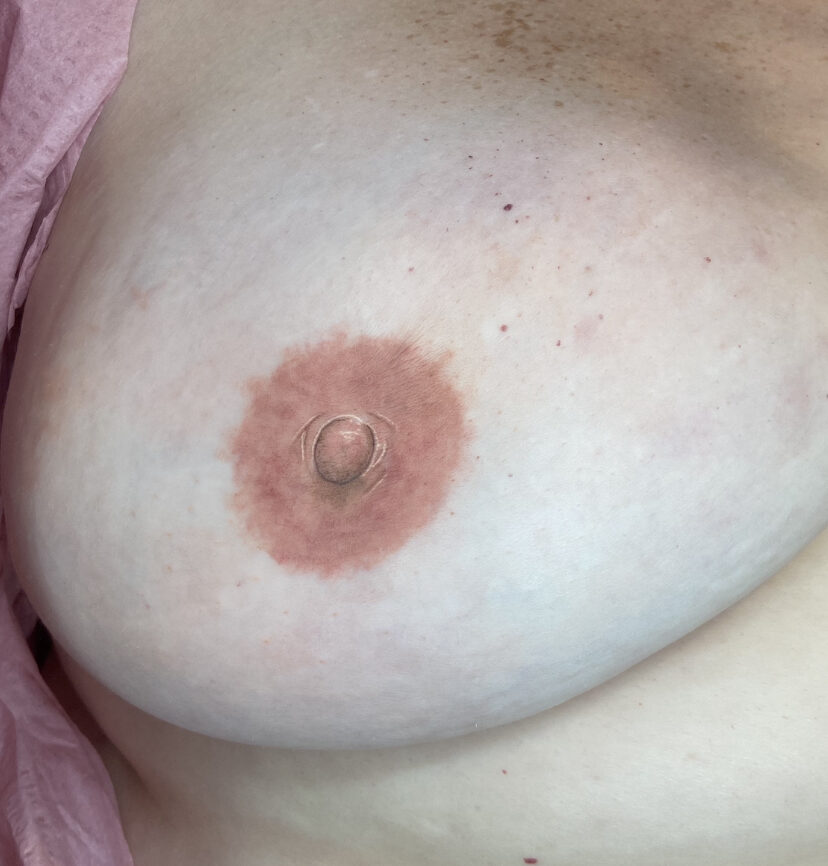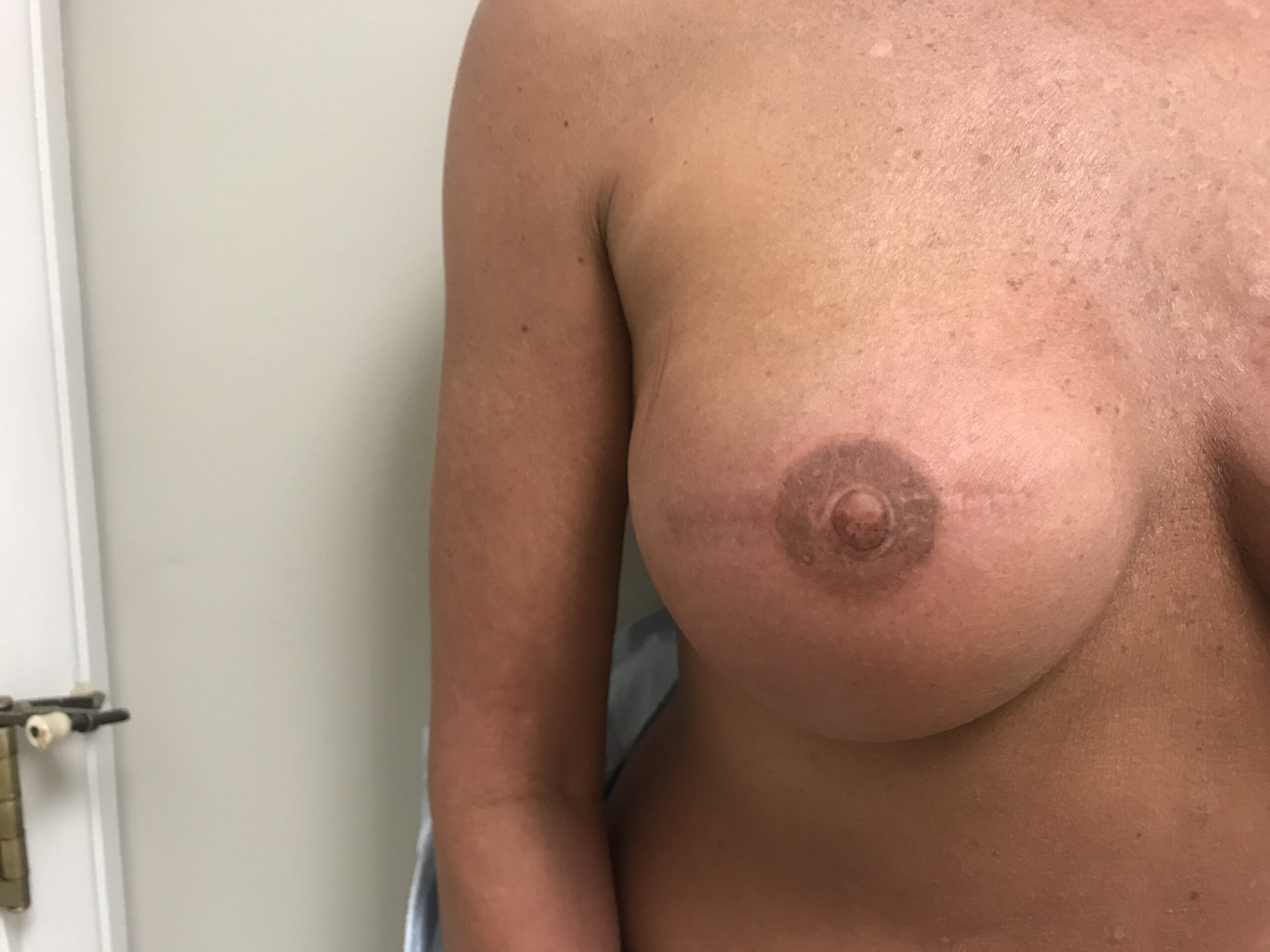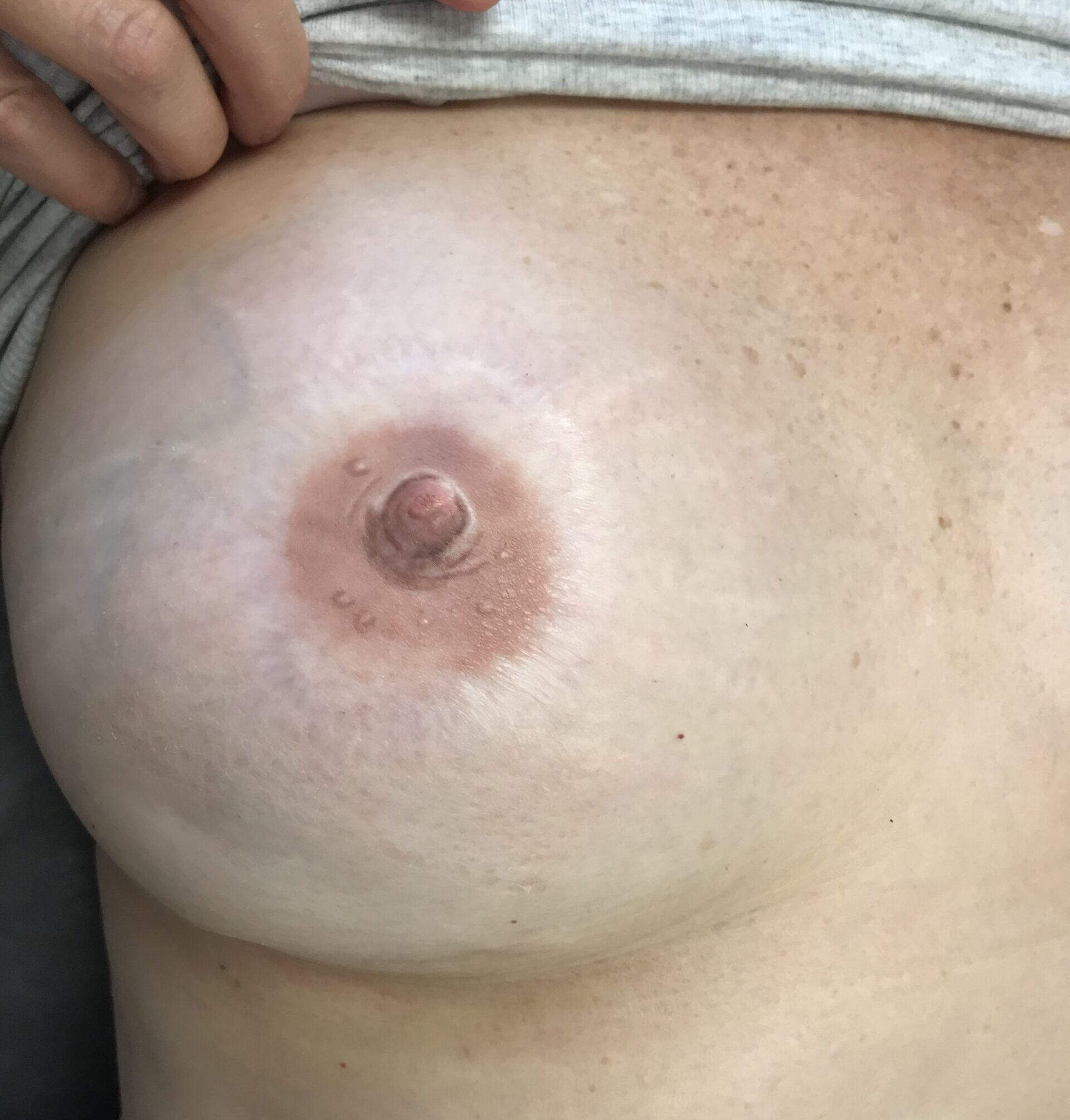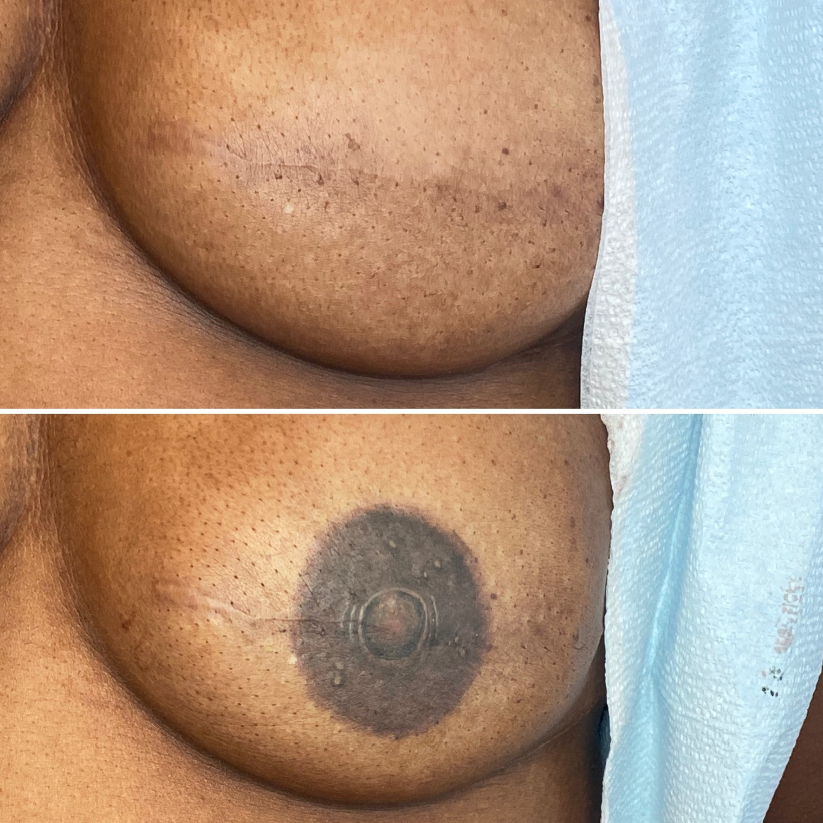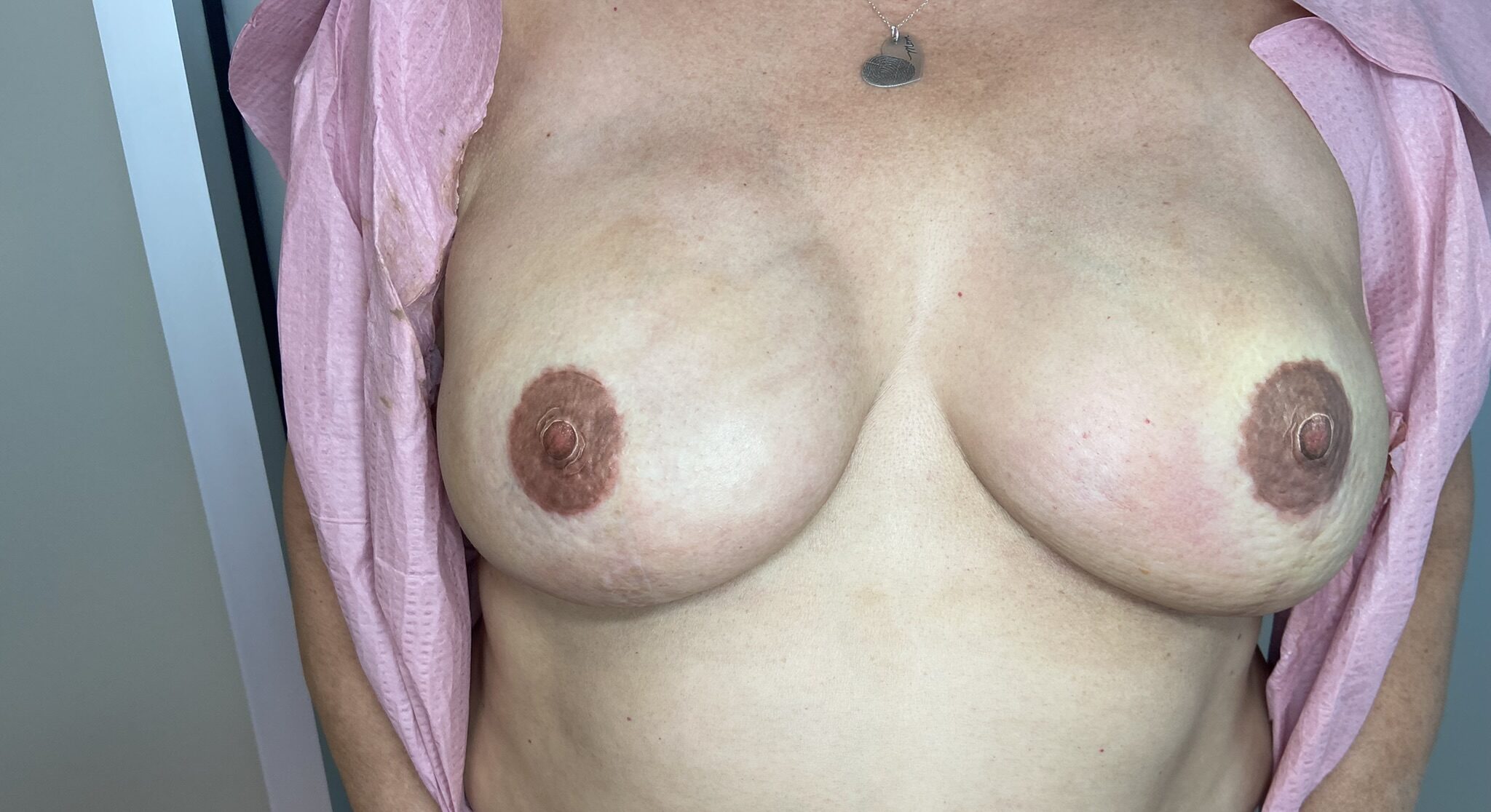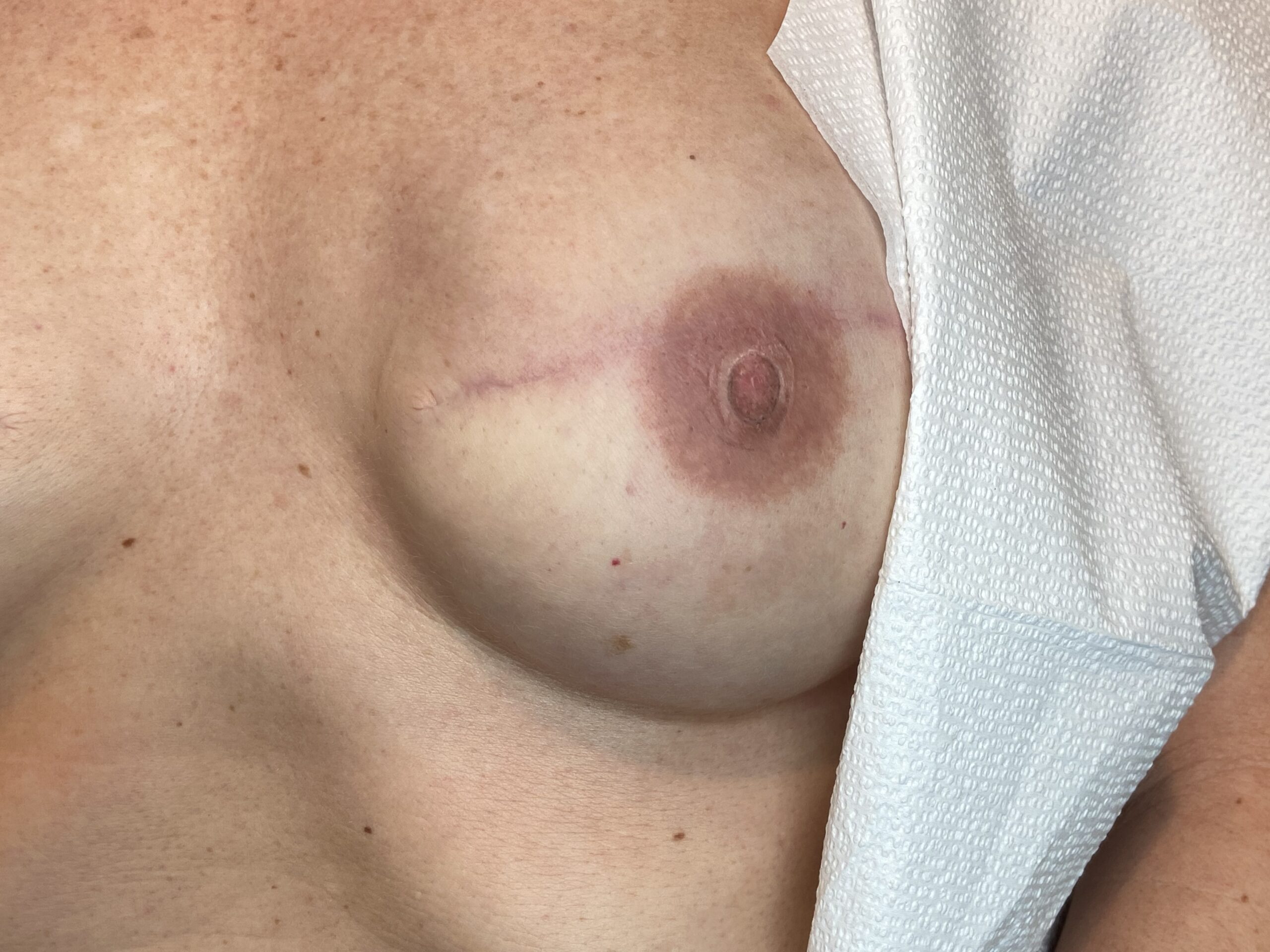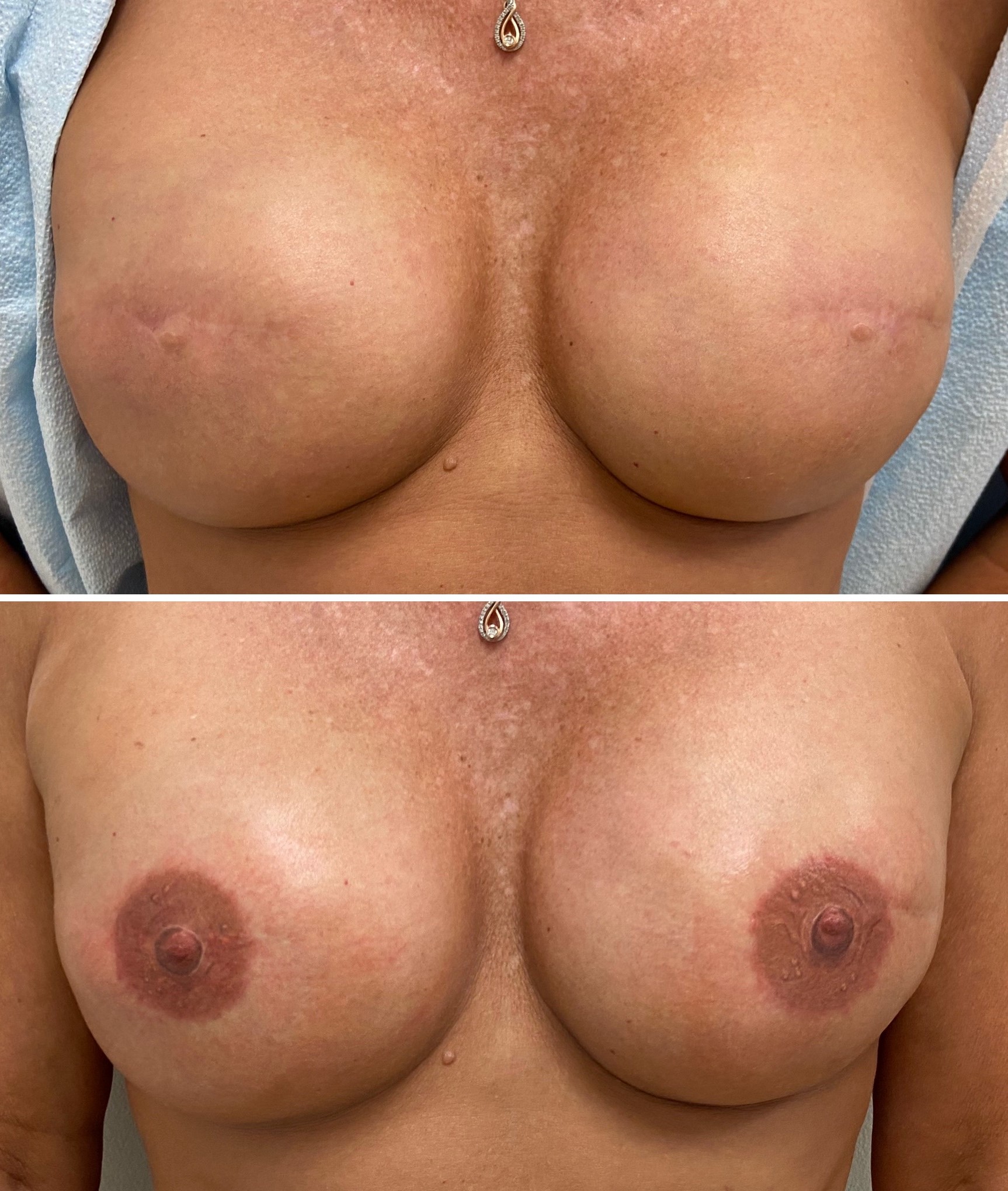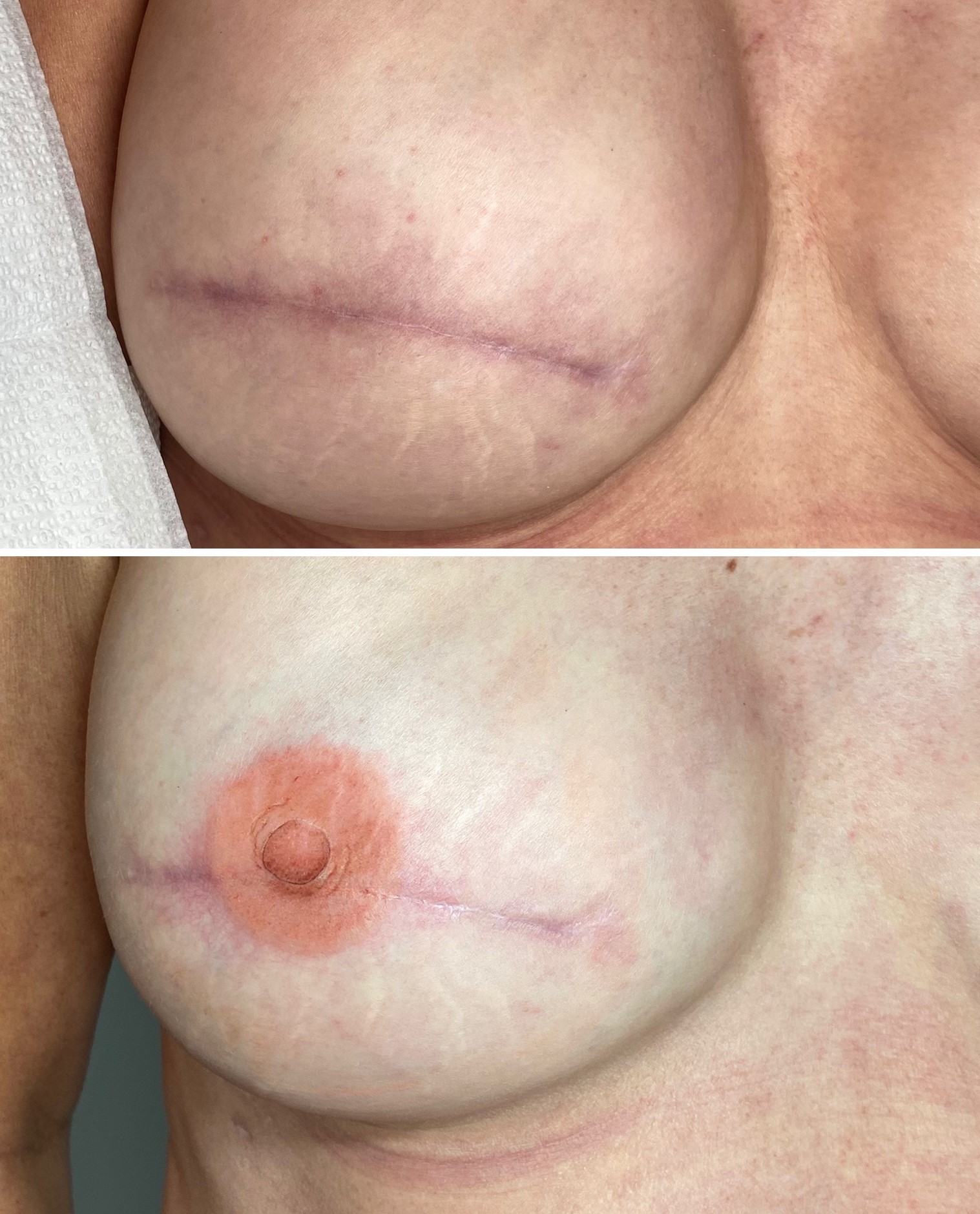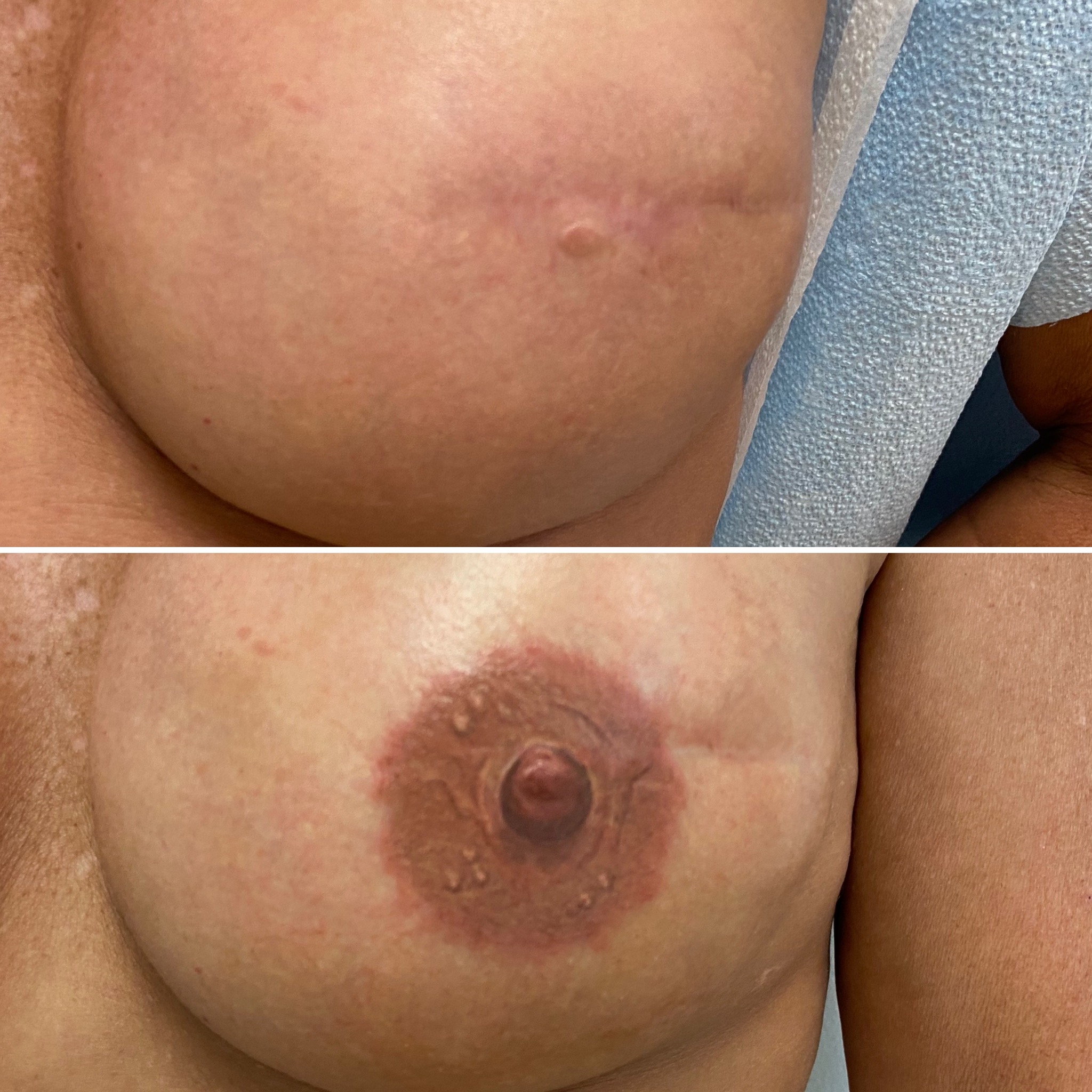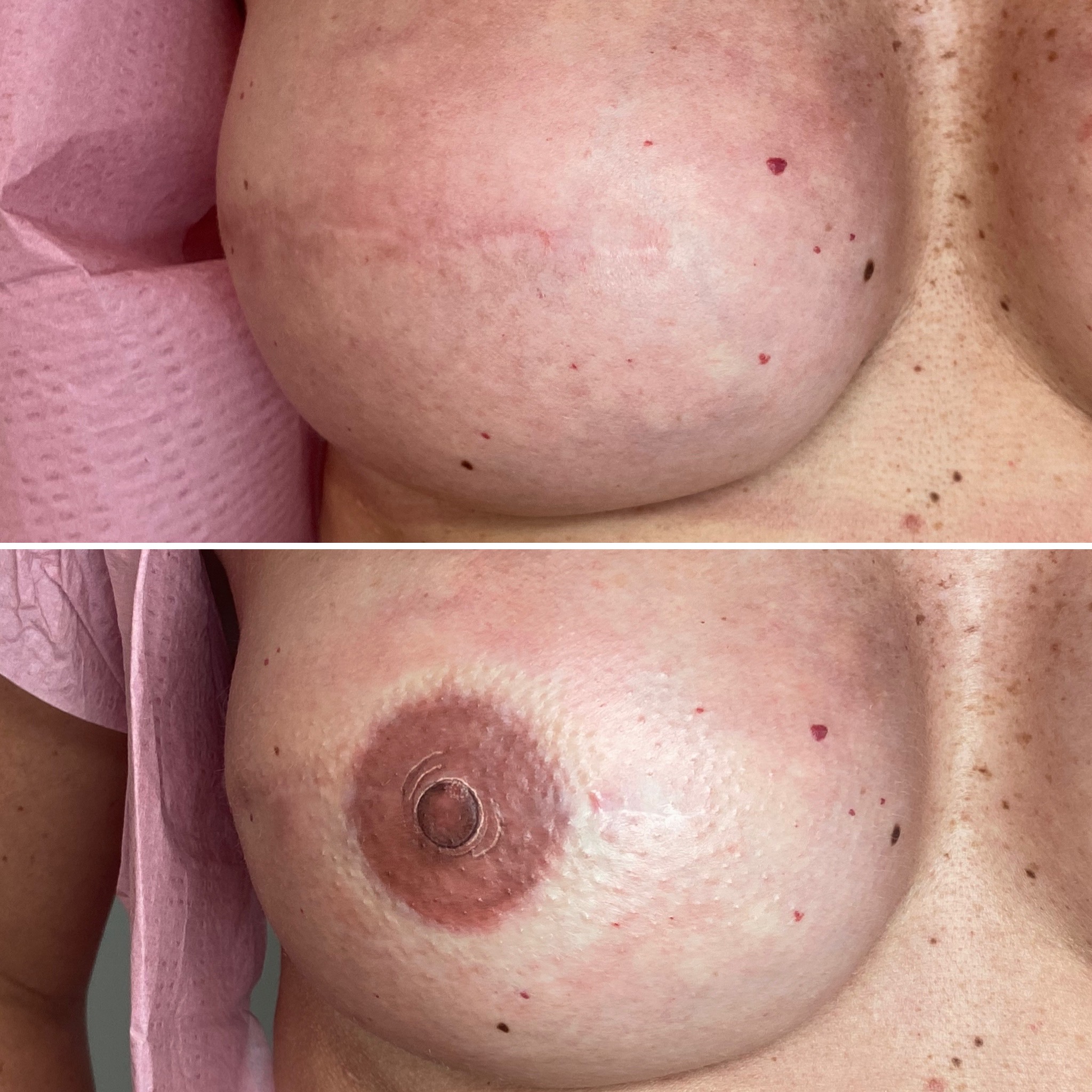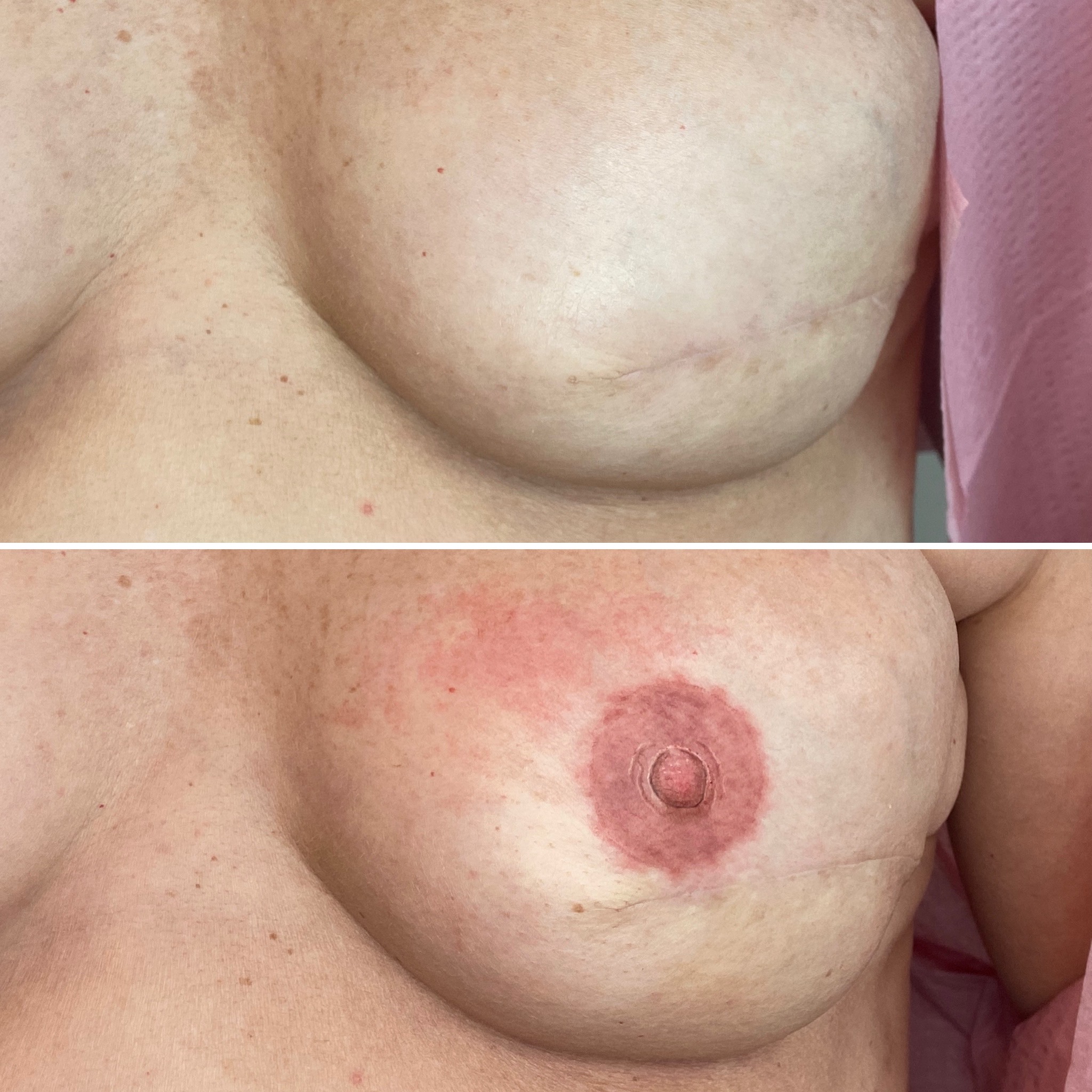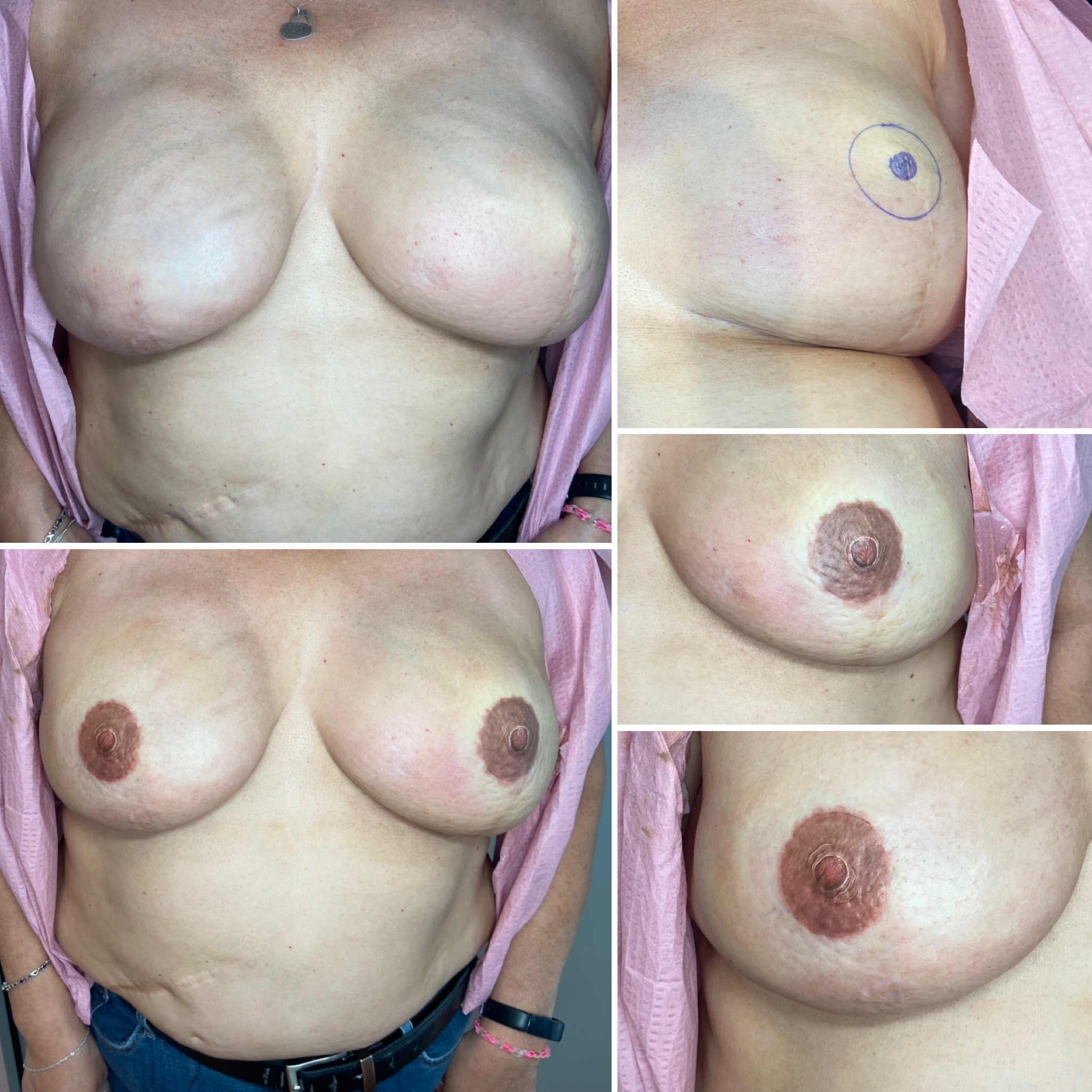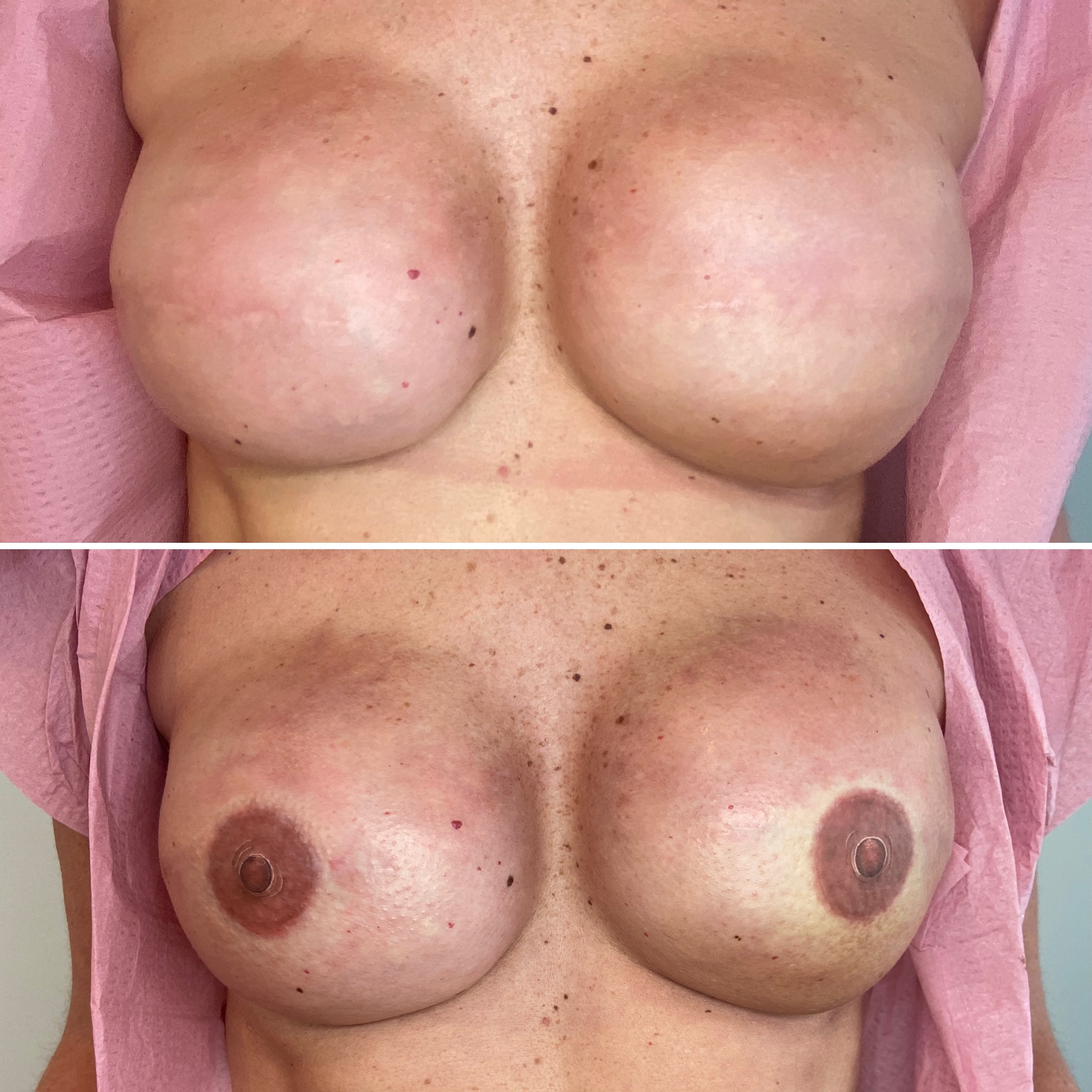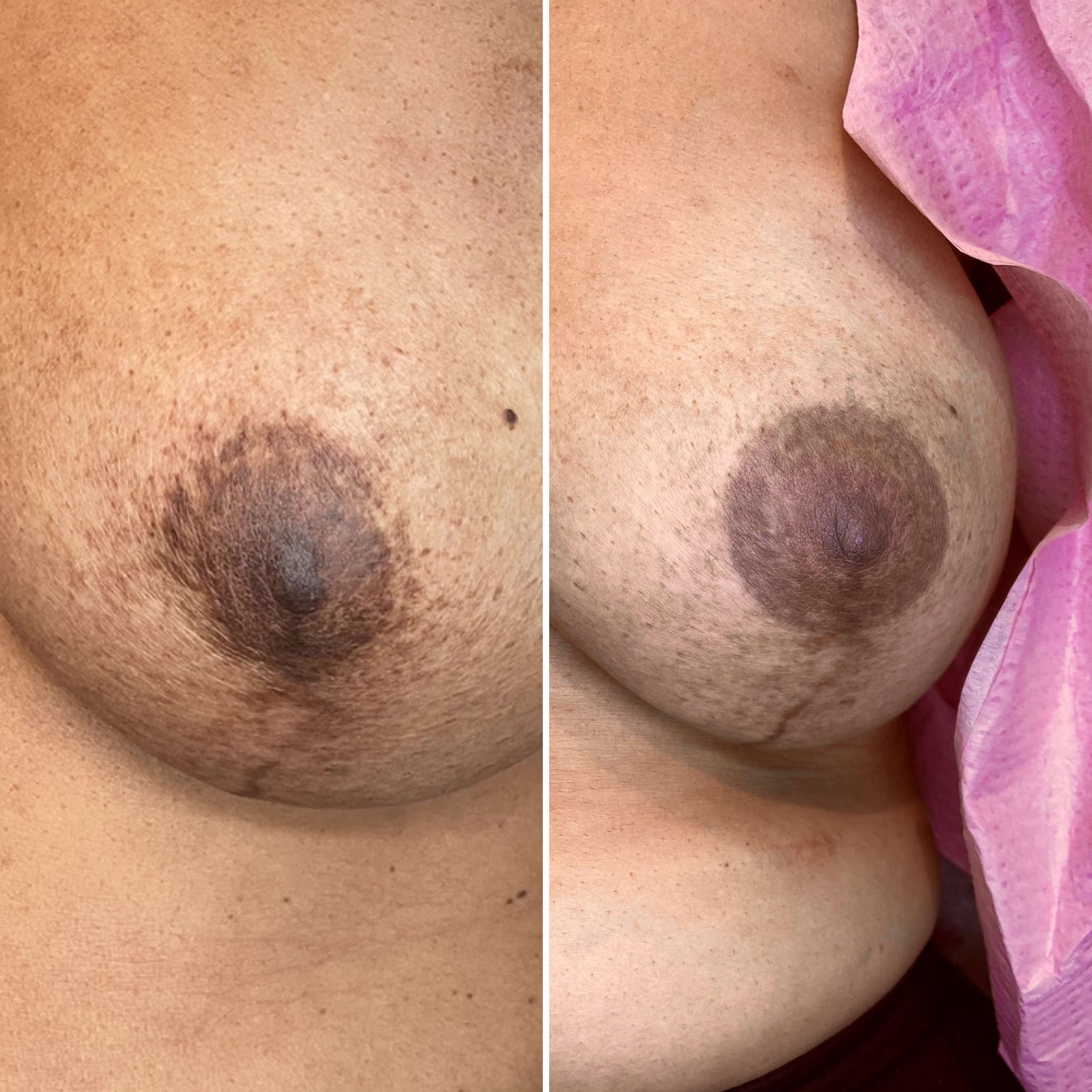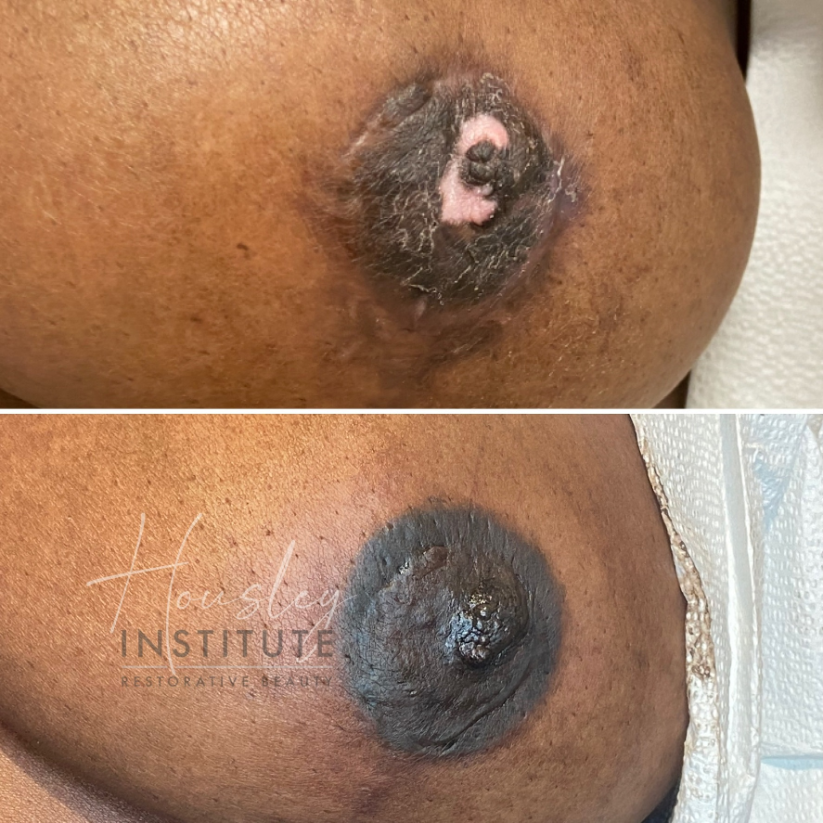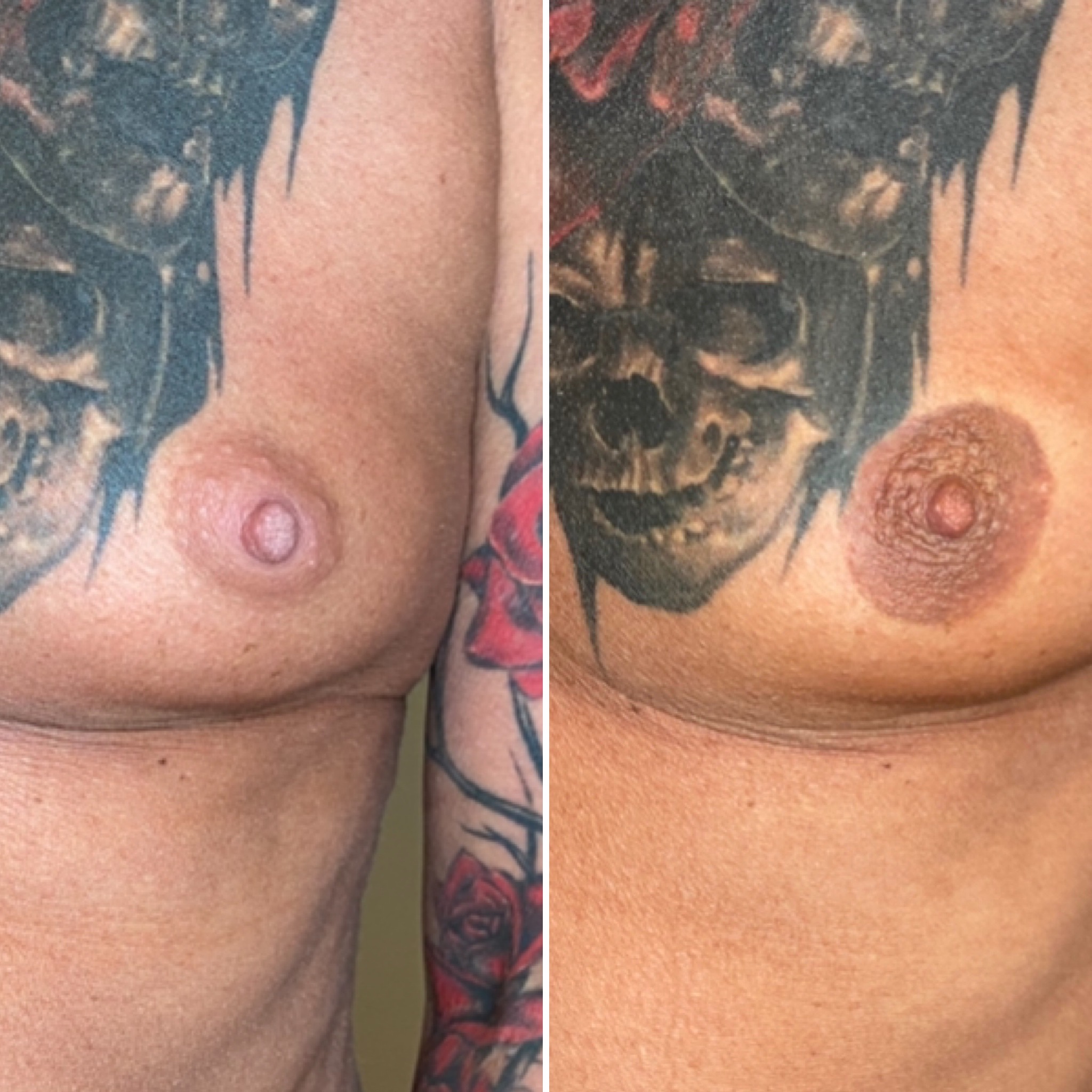 Avoid the "Pepperoni"
Do Your Research
Housley Institute performs a lot of corrective areola tattoos on patients who have received areola tattooing from physicians and surgeons offices at the time of reconstruction.
These tattoos typically are a "one color fits all" two-dimensional circle. They are performed by a nurse or doctor who typically is untrained or unskilled in tattooing and the results usually resemble a slice of pepperoni—these tattoos are often ugly, can cause scaring, and will fade very quickly.
BEST ADVICE: We highly suggest researching an artist's 3D areola restoration work prior to scheduling your nipple tattoo.
Also, the other issue is that some surgeons/physicians bill the initial areola tattoo to your insurance company at exorbitant rates, but they also bill your insurance for every repeated application. It's not unheard of for a physician or surgeon's office to repeat the entire procedure 3… or even 4 times. There's no need to do that when the tattoo is performed properly.
The Result?
If you choose a physician's or surgeon's office for your tattoo, you and your insurance company could be paying a lot of money for UGLY, flat "pepperoni" areolas. It's why Housley Institute does so many corrective tattoos on people who were extremely dissatisfied from the two-dimensional areola tattoos.
If you've had previously unsatisfactory results from a physician or surgeon's office, we can help! Please schedule a consultation and we can discuss what corrective measures can be taken to improve and help you reach your desired look.
The Women's Health & Cancer Rights Act of 1998
Know Your Rights
The Women's Health and Cancer Rights Act of 1998 requires insurance to cover post-mastectomy reconstruction, including areola / nipple tattooing. This includes, but is not limited to:
Reconstructive breast surgery — defined as surgical procedures that are designed to restore the normal appearance of the breast after surgery, accidental injury, or trauma. Breast reconstruction surgery may be based on the treatment a patient receives or the extent of surgery performed. The reconstructive surgery may be performed in a single stage or several stages/phases and either during and/or after the initial surgical procedure.
Insertion of prosthetic implants; Extensive flap reconstruction (e.g., transverse rectus abdominus ocutaneous/TRAM flap, latissimus dorsi flap)
Revision of a previously reconstructed breast
Surgery for symmetry of the contralateral (opposite) breast, and/or
Nipple tattooing and areola restoration
Techniques
The Illusion of Protrusion
Different Techniques
Unilateral: We mirror the color and shape of your existing areola and nipple area to create a "matching" areola and nipple on the reconstructed breast.
Bilateral: We select a color that either matches your previous areola color or we can create a "new and improved" shade if you always wanted a lighter or darker areola. Then, we select your ideal size and shape. We tattoo a 3D areola on each breast to finalize your breast reconstruction.
3D Tattooing: If you have not undergone nipple reconstruction, our 3D tattooing will provide you with an extremely realistic areola and nipple. This 3D process can be performed either unilaterally or bilaterally. We like to say this technique gives the "illusion of protrusion."
3D Nipple Tattoo Details
Appointment Length:
2 hours
Healing Time:
7 to 10 days
Actual Tattooing Time:
30 to 40 minutes per areola
Numbing Used?
Yes, with a nipple tattoo a pre-numb agent and a secondary anesthetic can be used if there is any discomfort.
Lasts For:
8 to 10 years
Color-boosts Recommended:
As Needed
Follow up appointment included with appointment?
Yes
Meet the Artist
Shannon Housley
Shannon received her 100-hour certification in 3D Areola Restoration from The University of Penn Medicine in Philadelphia and trained under world-renowned artist Mandy Sauler. She has received her advanced hyper-realistic nipple certification and was hand-selected out of hundreds of tattoo artists to be a "Sauler Selective Artist."
She is Cincinnati's only independent paramedical / nipple tattoo artist trained to create hyper-realistic 3D areolas and takes great enjoyment in providing her breast patients with beautiful, long-lasting results.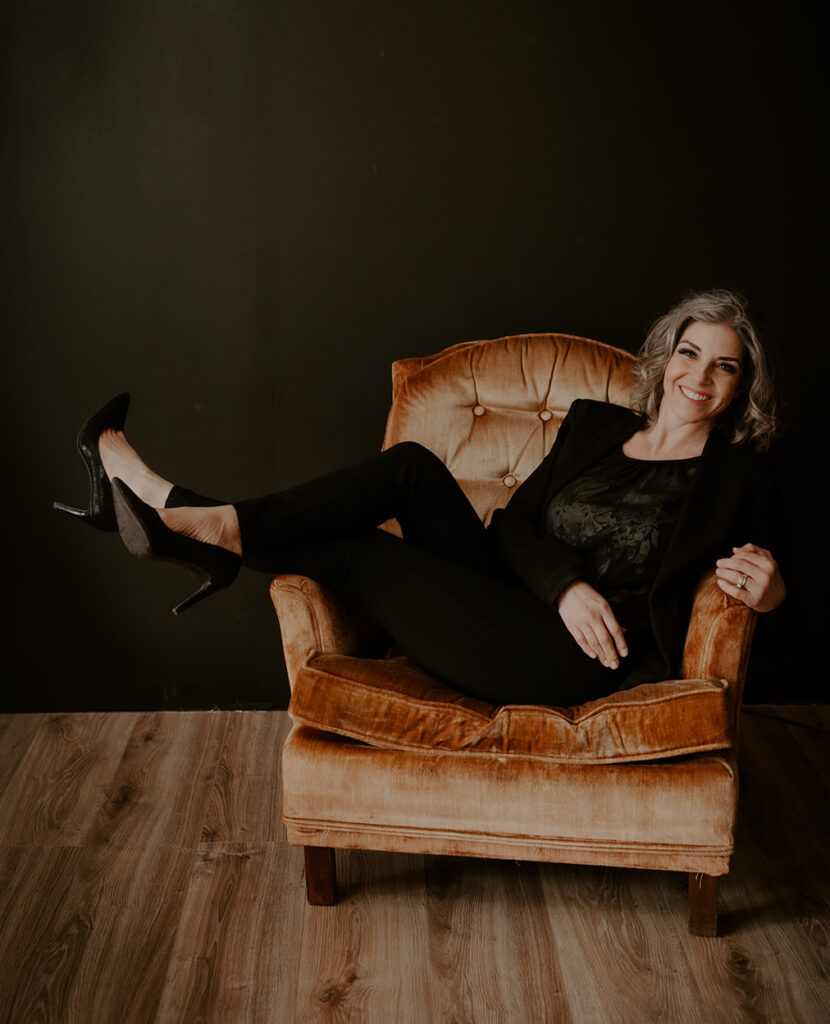 3D areola tattooing gives the look of protrusion to a flat surface.
Breast and Plastic Surgeons
We proudly treat patients of:
Support Groups
What People Are Saying
Patient Testimonials
I just had my 3D areola tattoos done by Shannon Housley this week and unveiled them today for the first time. They are beyond amazing. I never dreamed they would look so real and perfect. Shannon does amazing work and is very compassionate and caring. She made me feel very comfortable and relaxed, and took extra time to make sure everything was just right.The environment is very clean and relaxing and I would highly recommend her to everyone. She has given me the final touch to make me feel whole again after my recent Breast Cancer journey. 💕She's truly an angel.
Stephanie S.
Shannon has a beautiful heart and is an amazing artist! My reconstruction after a double mastectomy was 5 years in the making and she made it complete with areola tattooing. I am so pleased with the results and give her the highest recommendation!
Melissa M.
Frequently Asked Questions
What will happen at my appointment?
The first step of your areola tattoo is the consultation. Once you complete the general medical history form and the tattoo consent form, we'll discuss your expectations and your reconstruction history. I'll take as much time as needed to answer all of your questions.
Before photos are required. Your face will not be included, but photos of your areola restoration are mandatory for your record. Once we have before pictures completed, we move on to the design part, where we select the size, placement, and color of your nipple tattoo.
The next step in the appointment is the actual tattooing. Each areola is completed in approximately 40 minutes. If you have any discomfort, we simply apply a topical anesthetic and you will be more comfortable after that.
Following the tattooing phase, we'll take "after" photos and then we apply the Tegaderm bandage which you'll keep on for 3 days.  If you've previously been reactive to Tegaderm, we can apply a Telfa pad instead.
We'll review all aftercare instructions with you and answer any remaining questions about healing.
What do I need to do prior to my appointment?
Do not use recreational drugs or alcohol for 48 hrs prior to nipple tattooing.
Nicotine constricts your vascular system and will impede healing. We *highly suggest* that you abstain from smoking at least 2 weeks before and after your session.
You will be sent home in a Tegaderm bandage so your tattoo will be protected. You will be most comfortable if you wear a loose-fitting top. You are free to wear a bra if you are more comfortable in one than without.
Do not take aspirin or NSAID at least 24 hours prior to your appointment. Tylenol is OK, as it does not thin the blood. However, DO NOT STOP regularly prescribed blood thinning medications from your physician, (aspirin or prescriptions). The tattoo is a superficial procedure, not an invasive surgery.
You must wait at least 6 weeks after ceasing chemotherapy. If it's any sooner than 6 weeks, you must have written consent from your physician prior to your appointment.
Skin must be completely free of tinted or self-tanning lotions. We suggest to stop using self-tanning lotions at least 2 weeks prior to your appointment.
Is it painful?
While everyone's pain tolerance is different, most patients report little to no pain with areola repigmentation. Depending on the type of breast reconstruction you had, there usually is decreased sensation of the skin — especially with flap (ie: DIEP/Latissimus) reconstructions. After your areola tattoo, you might experience discomfort that is comparable to a minor sunburn for a few days. During the nipple tattoo, if you experience discomfort, we can apply a topical lidocaine anesthetic.
Can I bring someone to my appointment?
If you have a spouse or good friend who can lend encouragement and input on the shape, design, and color of your 3D areola tattoo, we suggest bringing a support person with you. However, if you are more comfortable coming alone for your areola restoration, you can work directly with the artist to determine what is best for your nipple tattoo. Please do not bring young children or pets.
How soon should I schedule my areola tattoo?
You should schedule your nipple tattoo only once you are completely healed from any surgery or invasive procedure. You should not have any additional revisions scheduled and you must receive approval for areola tattooing from your surgeon. You must be fully healed with no scabbing remaining. You should not schedule an areola tattoo sooner than a minimum of 12 weeks post-op. Regardless of the number of weeks you wait post-op (12, 16, 20+ weeks etc.), it is imperative that ALL incisions must be fully healed–without any scabbing and residual swelling must be gone.
While you may be excited to put the finishing touches on your reconstruction, we highly recommend waiting 3 months (ideal for implant reconstruction) or 5 months (for flap reconstruction) to allow healing to occur and the scars to fully close and settle slightly. Your tattoo is the finishing touch and you want your breast to be fully healed so that you have excellent results. Please don't rush it if you are still healing.
How long will my appointment take?
Your session will take approximately 2 to 2.5 hours total. The bulk of the appointment is spent on the consultation, design, and color selection. The actual nipple tattooing process is typically only 40 minutes per areola.
Do you have a brochure?
What are the pre & post nipple tattoo instructions?
What are the Tegaderm aftercare instructions?
Nipple tattoo aftercare is relatively simple. You'll receive detailed areola tattoo aftercare instructions at the end of your session.  If you are sensitive to Tegaderm, we offer a non-adhesive alternative.
Please download the Tegaderm aftercare instructions.
We teach 3D areola tattooing at our Sharonville training academy.  3D areola tattoo models will be tattooed by Housley Institute Academy students under the supervision of Shannon Housley and other Housley Institute artists.

Tattooing is done free of charge, with the exception of a $75 supply fee that is paid at the time of securing your model spot.

Once you submit the 3D Areola Model form, you will be contacted about future areola tattooing model openings.

If you are unable to attend the session that's available, we will keep you on the list and notify you of future model opportunities for upcoming sessions.

Once you have accepted a model spot, you will receive an invoice for the non-refundable $75 supply fee. It must be paid within 24 hours in order to lock in your model spot.  Model spots do not include complimentary touch up appointments.