Eyebrow Tattoo Techniques
Which Is Right For You?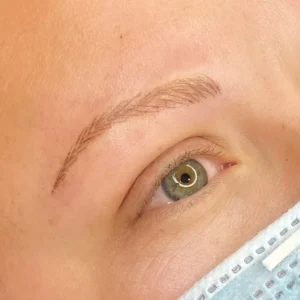 MICROBLADING IS NOT FOR:
People prone to bleeding
People with very oily skin or with large pores
Someone wanting a filled in or heavy coverage
MICROBLADING COLORBOOST NEEDED:
12 to 18 months
Microblading
Microblading works well with normal to dry skin types that have invisible to small pore sizes.
Microblading is a form of eyebrow tattooing that replicates hair strokes and looks natural. With microblading, there are only hairstrokes and no powder brow or microshading done.
Best results are achieved on people with invisible to small pore sizes.
Microblading typically fades the fastest out of all permanent brow tattoos.
Microblading is a done with a manual, hand-held microblading tool. Microblading touch ups need to be spaced with at least 5 weeks between the initial tattoo session and the follow up appointment.
Your Microblading Colorboost, or "color refresh," needs to only happen once every 12 to 18 months.
Bladeless Brows
Bladeless Brows, also called nanobrows, is a technique used to create hyper-realistic hair strokes. This advanced technique utilizes a rotary tattoo machine pen, opposed to a manual microblade tool.
The benefits of our Bladeless Brows technique over microblading is that:
It does not create cuts in the skin, so there's less trauma
Strokes look more realistic
Healing is quicker/easier
It provides improved color retention over microblading
Strokes heal crisper
It's ideal for a wider-range of skin types
Housley Institute is one of only a handful of permanent makeup studios that offer this advanced machine-stroke technique in the Cincinnati tri-state area.
For clients who want a little more coverage than only hairstrokes, Bladeless Brows can be combined with a soft microshading technique to "fill in" the area between the brow strokes.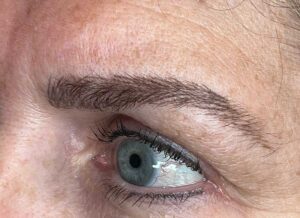 BLADELESS BROWS ARE NOT FOR:
People prone to bleeding
People with very oily skin or with large pores
Someone wanting a filled in or heavy coverage
BLADELESS BROW COLORBOOST NEEDED:
12 to 18 months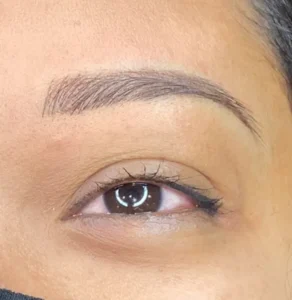 COMBO BROWS ARE NOT FOR:
Someone only wanting hair strokes
Someone with dense brow hair
COMBO BROW COLORBOOST NEEDED:
Every 18 to 24 months
Combo Brows
Combo brows are a permanent eyebrow tattoo technique created using a mixture of microblading or bladeless brows–which creates hair-like strokes– and powder brows or microshading, which gently inserts pigment into the skin for a soft, powdery look.
The bulb of the brow is light and soft and contains "hair strokes" from microblading, while the arch through tail has a soft, misty shading.
Best results for this combo brow tattoo are achieved on people with normal pore size.
Combo brows are an excellent choice for people with normal to combination skin.
Powder Brows
Powder brows are creating using a small permanent makeup pen that gently inserts pigment into the skin for a soft, powdery look. A small amount of pigment is placed at the bulb of the brow in order to create a shaded look. This does NOT look like old traditional block (heavily tattooed) brows. Rather powder brows give the appearance of a light makeup powder fill that's still full-coverage but soft.
Powder Brows are best suited for all skin types including oily skin and larger pore sizes.
This is the most gentle technique of all brow enhancements, so it's also a great option for sensitive or mature skin.
Lasts longer than other brow enhancement techniques.
Is a great choice for someone who regularly fills their brows with makeup or prefers the look of a bolder brow.
No hair strokes are placed.
The least traumatic to the skin of all of the brow enhancement techniques.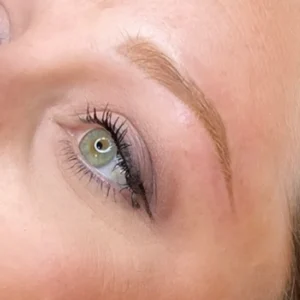 POWDER BROWS ARE NOT FOR:
Someone only wanting hair strokes
Someone with dense brow hair
POWDER BROW COLORBOOST NEEDED:
Every 24 months
Photo Gallery
Our Clients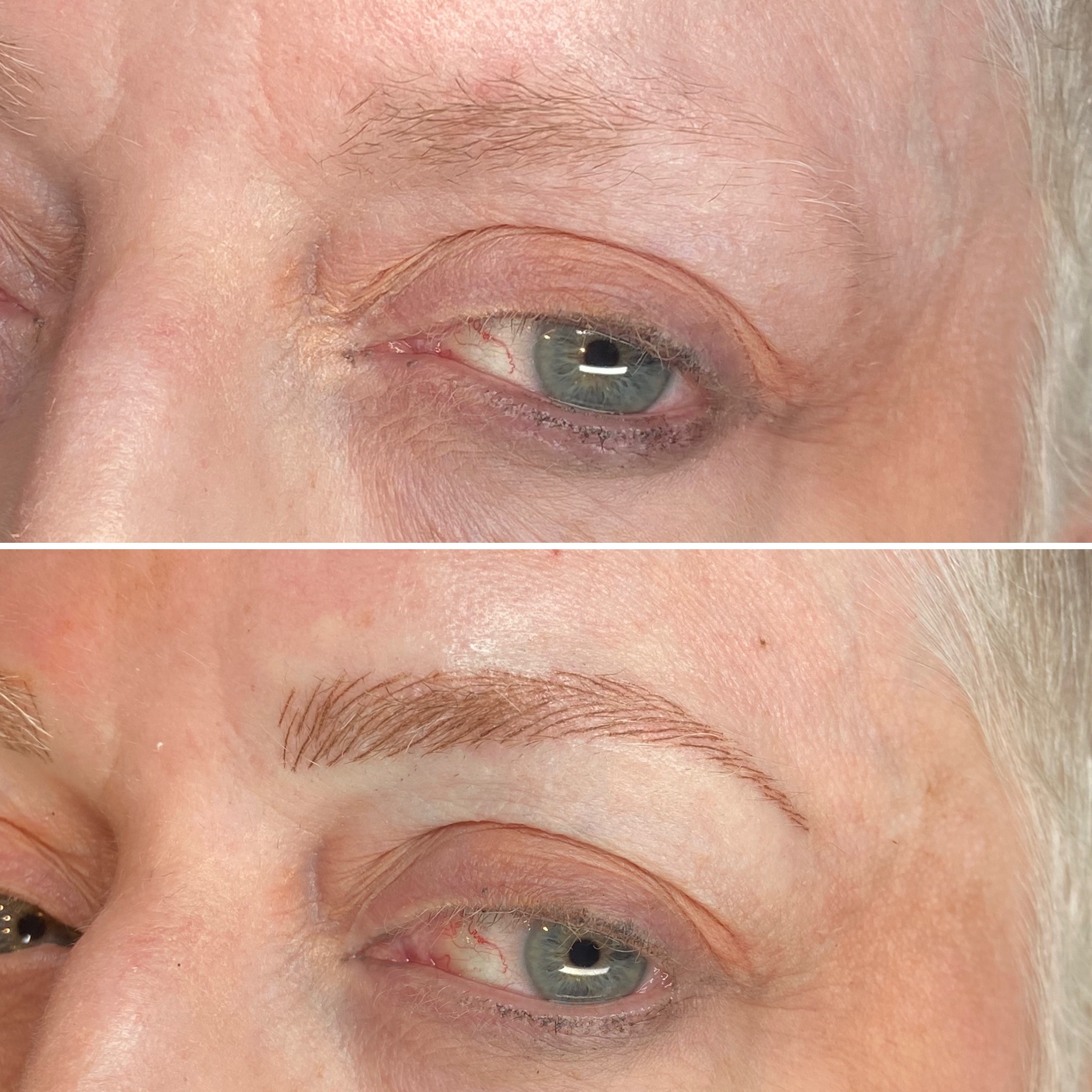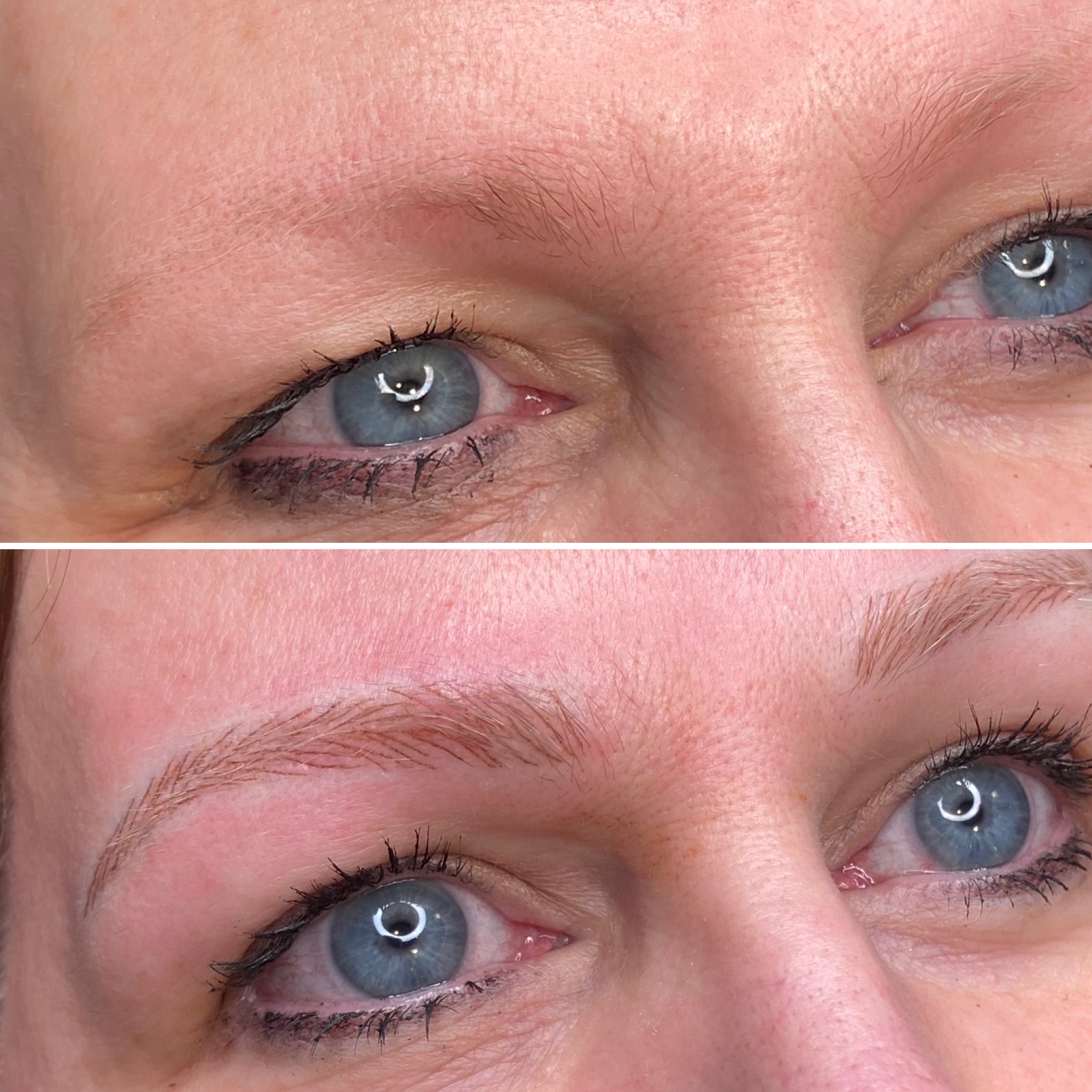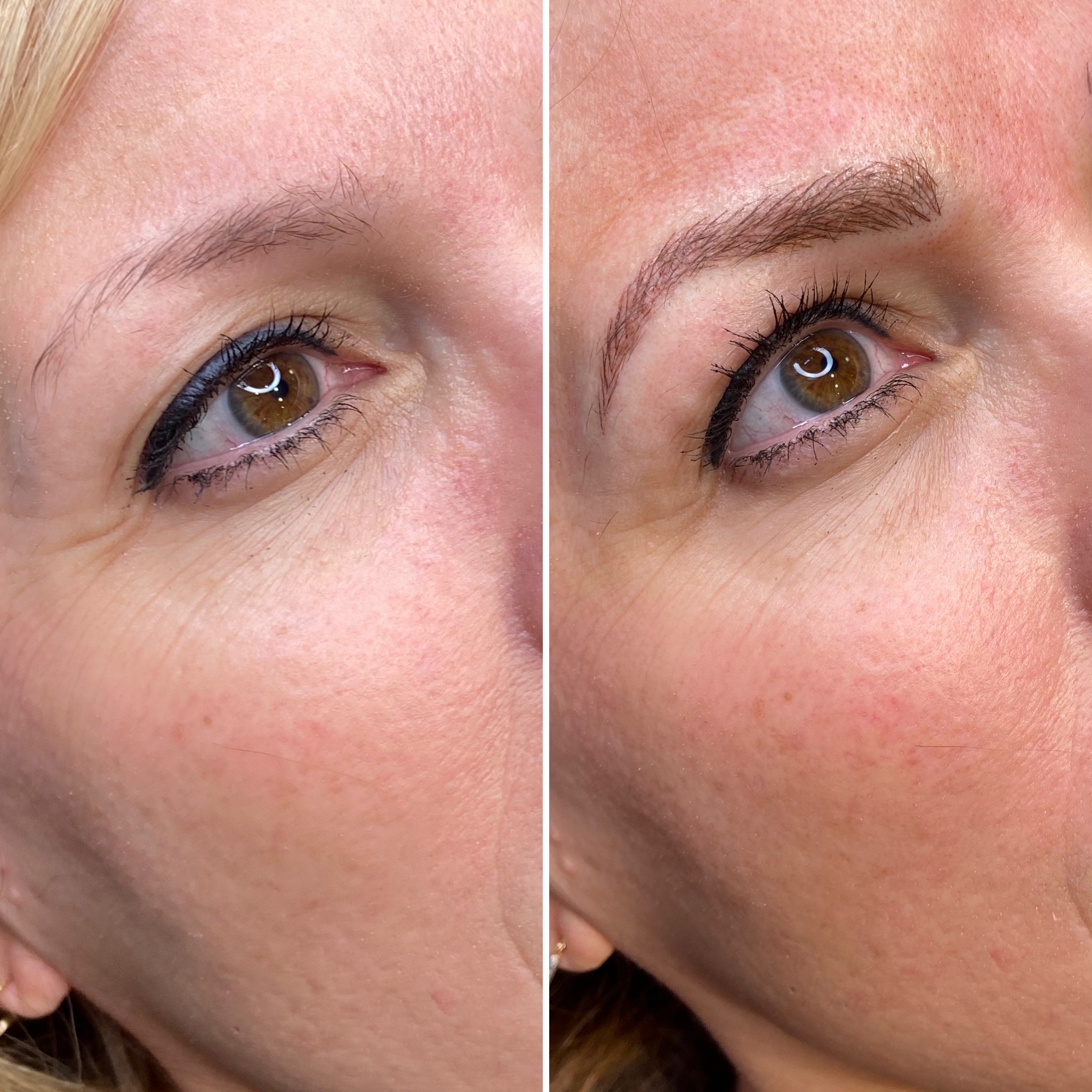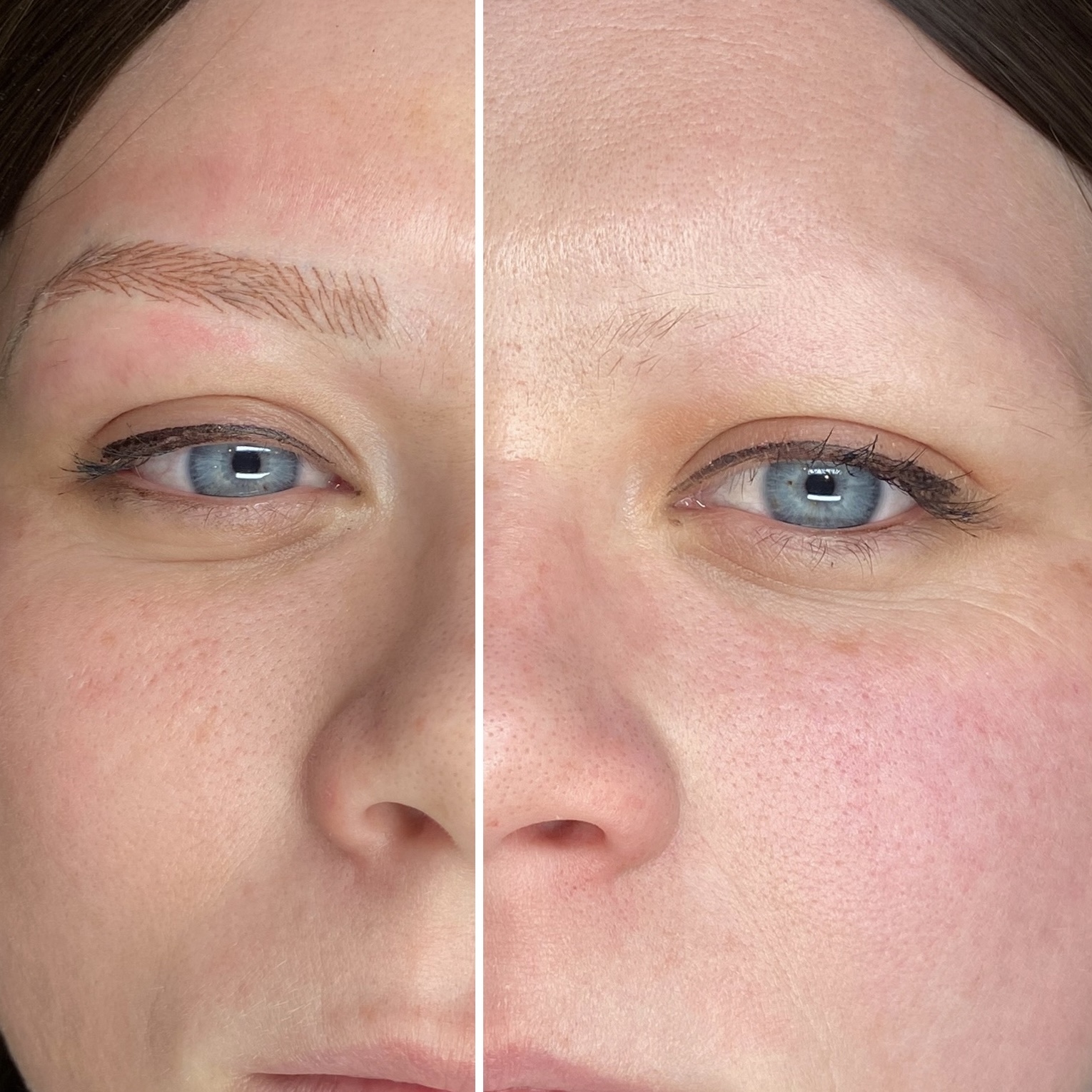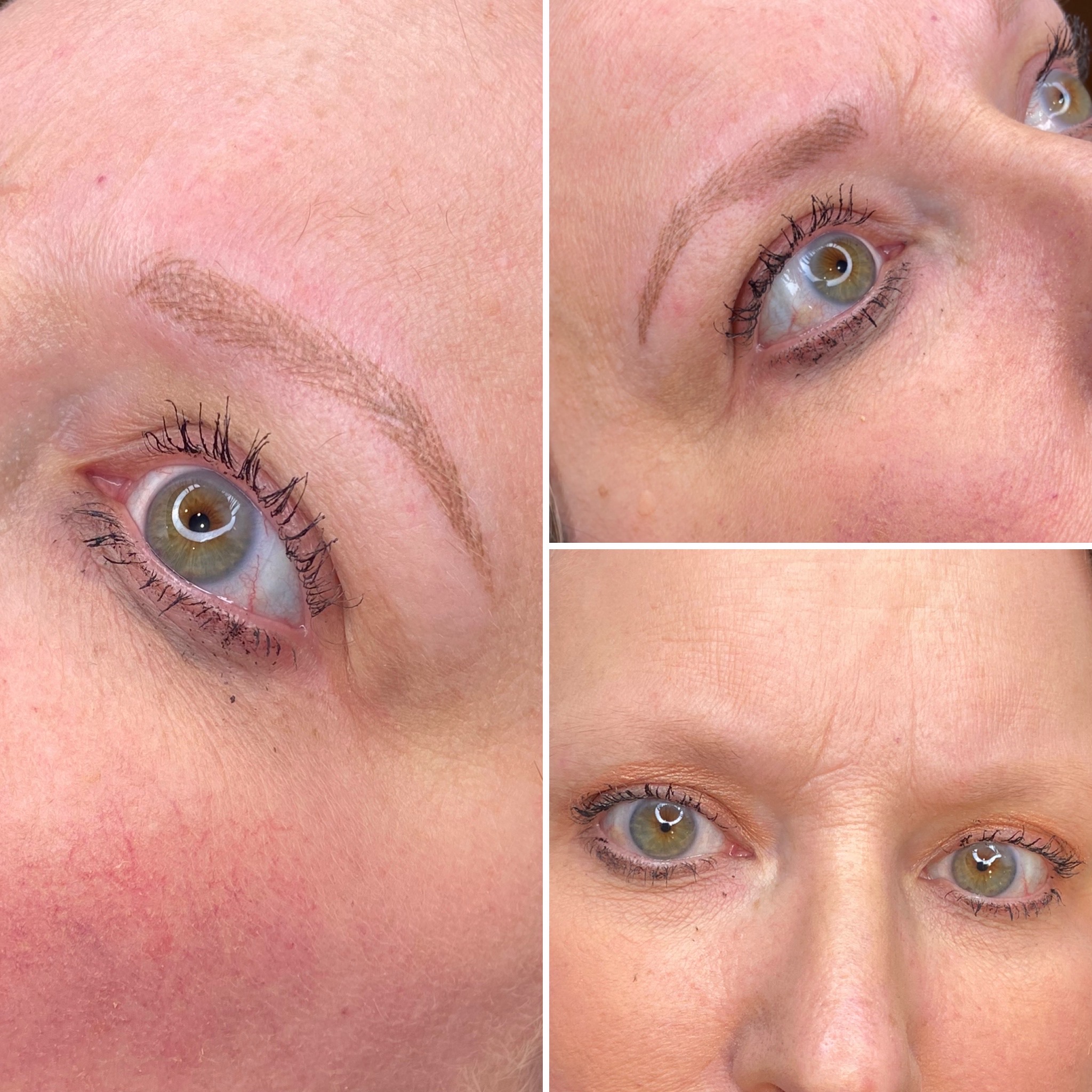 Book A Consultation
It's Complimentary
What to Expect
The Process
During your session, we'll discuss your ideal brow shape, desired brow tattoo look, and color of pigment to be used in your eyebrow . Then, we'll begin by mapping out the brow shape. This portion of the microblading, ombre brow, or powder brow session is actually the lengthiest, it's incredibly important to get the perfect outline before beginning your eyebrow tattoo.
Once we outline the desired brow shape and choose the brow tattoo pigment color, the next step is to apply numbing gel to the skin and let it "marinate" under cling wrap for 10 minutes. By the time we begin the actual work, you'll be comfortably numb! Most clients report little to no discomfort after the numbing step.
Step Three
Creating the Perfect Brow
Now it's time for the fun part…creating a picture-perfect brow tattoo! The color is deposited within the brow shape outline we made in Step 1. The entire process for Step 3 only takes around 45 minutes total… and is nearly pain free thanks to the use of our top-notch numbing anesthetic.
Frequently Asked Questions
Am I a good candidate for an eyebrow tattoo?
Please note if any of the following apply to you, you unfortunately may NOT be a candidate for cosmetic brow tattooing.
PREGNANCY: For your safety, and the safety of your baby, we cannot perform permanent makeup on you while you're pregnant. Not to worry though…after you give birth it is totally fine for you to receive our services! You can pre-book your appointment while you're pregnant, or continue to follow us on social media to see more great content.
NICKEL ALLERGY: If you have a nickel allergy, you are not a candidate for microblading or permanent makeup in general. Even though our needle cartridges and microblades contain medical grade/ surgical grade (Grade 304 / 316) stainless steel, it can contain up to 10% nickel.
KELOIDS: Unfortunately, we cannot perform microblading on people who have any history of keloids. This is because both services introduce tiny cuts, so if you have a history of keloid scarring it's very possible you could have that after microblading. We would not want that for your face! However, you may qualify for other types of permanent makeup (applied with a tattoo machine, not a microblade) if you have a history of keloids. Please call us or schedule a complimentary consultation to discuss options.
CHEMOTHERAPY: While we love to help patients who have successfully completed chemotherapy or who want permanent makeup before they start their first round of chemo, we unfortunately cannot perform permanent makeup on anyone who is actively receiving chemotherapy. Not to worry though…in most cases you can receive permanent makeup BEFORE or AFTER your chemotherapy treatment if you are in good health and your doc says it's ok. Give us a call to talk further!
BLOOD THINNERS OR BLEEDING DISORDERS: We cannot perform permanent makeup on anyone who is actively taking blood thinners, or who suffers from a bleeding disorder. This is because the permanent makeup services we provide penetrate and open the skin. In both cases, you may bleed, which can compromise your results and our ability to perform the service. The bleeding makes it difficult for our artists to see their work, which makes it almost impossible to ensure crisp clean lines and shapes.
Bleeding also dilutes the pigment we use, which means any work we can get done through the bleeding will be very light, or in some cases it may not stay at all. It's more important that we provide an outstanding result for you than to take your money.
Please know that we are NOT doctors! So prior to stopping any medication you need to consult your doctor and seek their medical opinion. It is recommended that blood thinners be stopped (only with a doctor's consent!) at least 2 weeks prior to cosmetic tattooing.
ACCUTANE USE: Unfortunately, if you have used Accutane or any similar medications, we are unable to perform any permanent makeup service until you have been off the medication for one year. This is because these medications will change the qualities of your skin, leading to increased swelling, bleeding and pain. In addition, your skin is unlikely to heal well after the procedure. Don't worry though! We will be here until you're ready…feel free to follow us on social media to stay up to date on what we're doing and new services until it's time for you to book!
RECENT BOTOX: Because Botox can affect the position of your eyebrows, we cannot perform any permanent brow or permanent eyeliner makeup on you unless it's been at least 3 weeks since your Botox injections. The best option is to schedule your session before Botox of Dysport or at least 3 weeks after your last injection.
SUNBURN: We cannot perform permanent makeup on you while you have an active sunburn on your face. This is because it would cause extreme sensitivity, bleeding and pain. You can go ahead and book for at least 2 weeks later to secure your spot on the calendar when it's safe for your skin!
SEVERE ACNE: Trying to apply permanent makeup over a severe active breakout could cause infection and would not produce satisfactory results. We'd advise waiting until your acne breakout has subsided in the area you wish to have permanent makeup applied.
RETANOID/VITAMIN A/RETIN-A USE: Prior to all permanent makeup appointments we need you to stop using these types of products on your forehead, temple, and eye area at least 2 weeks prior to all appointments. This is because these products will change the qualities of your skin, leading to increased swelling, bleeding and pain. In addition, your skin is unlikely to heal well after the procedure. Don't worry though! It's totally fine to return to using them after your brows are healed.
AUTO-IMMUNE DISORDERS: We want the best for your brows and we only want you to make this investment for yourself if we believe you will have outstanding results! Sometimes, when your health is not at its best it can affect how you heal and negatively impact your final results. For this reason we want to make sure you are in good health overall at the time of your appointment. Give us a call you have an auto-immune disorder (ie: Celiac, Crohn's, Diabetes, hypo/hyper-throidism, RA, etc.) please schedule a complimentary consultation or call us so that we can chat further about how to best proceed with booking your appointment.
Does an eyebrow tattoo hurt?
This is probably the most frequent question we're asked! Pain and pain tolerance varies by client. Most clients in Cincinnati describe their discomfort level as minimal and find tweezing or waxing and more uncomfortable.
We use the best topical lidocaine gel available in Ohio to minimize discomfort. However, this is a still a tattoo. You could feel slight discomfort, but you are close to completely numb when the brow tattoo begins. Based on experience, we would describe the feeling a slight burning, "astringent like" sensation. Very tolerable and totally worth it!
How long does permanent brow tattoo makeup last?
This will vary by due to certain factors such as sun exposure, getting chemical peels, oily skin type, etc. However, if you follow the aftercare instructions diligently, your new brow tattoo will last approximately 18 months before they're mostly faded.
For some people, eyebrow tattoos will last even longer. Most commonly, microblading or microshading will last on the higher or lower end of the expected 12-18 months for microblading and 18-24 months for powder brows/bladeless brows before needing a Colorboost. Most clients prefer a fresh, bright look and opt to come in for Colorboosts every 12 months instead of waiting for their brows to fade completely.
Will my eyebrow tattoo look natural?
Absolutely! The technique used at Housley Institute creates realistic, simulated hair strokes that looks just like a real eyebrow! Your brows can be as big and bold or as soft and subtle as you like!
If you want to bring pictures to show your artist the kind of brows you love, that's a great! It's also necessary to give your honest feedback during the design process. This is where you'll achieve the shape, length, width, and arch that you want. So it's important you voice your opinion and be active during this process.
How long does microshading, microblading, or powder browstake?
The process takes approximately two hours from the moment you walk in the door to completion of your beautiful new brows.
The first hour or so is spent designing your new brows and numbing the area. There is no downtime afterwards!
Occasionally, some eyebrow tattoo clients will have some slight redness and swelling around the area which is very normal and will subside typically in 30 minutes to an hour. Most clients go on about their normal day when they leave their appointment.
Is your permanent makeup studio certified/licensed?
Yes! Housley Institute is a licensed tattoo studio dealing exclusively with permanent makeup and paramedical tattooing. All working artists are certified. The studio and staff are all insured.
All artists completed a hands-on apprenticeship and received certification from recognized training academies. All artists have received extensive training and certification in Bloodborne Pathogens and First Aid as deemed necessary for tattoo artists by the Occupational Safety and Health Administration.
It's crucial that you choose not only a certified Permanent Makeup artist, but also a licensed one to ensure your health is protected.
What is the healing process like for eyebrow tattooing?
Some tenderness after an eyebrow tattoo is normal and may last a day or so, depending on your skin. (Think a feeling like a mild sunburn).
Your new brows will appear DARKER, WIDER, AND SHARPER than the way they will heal. This is especially true for the first two to five days after your eyebrow tattoo session.
This is part is harder for some clients than others. Clients who rarely wear makeup may find that they don't like how their brows look on these days because they are too intense. That's normal! The pigment is sitting on top of the skin and has not yet settled into your face. As your skin heals over the tattoo, your brows with lighten and soften. This process takes about 7 days or so on average.
What are the pre/post care instructions for cosmetic brow tattooing?
With ombre brows, powder brows, microblading and bladeless brows, the aftercare instructions are the same–and relatively simple! We give you a printed brow tattoo aftercare sheet at the time of your appointment. However, you can also download the PDF file for pre/post care instructions here as well.