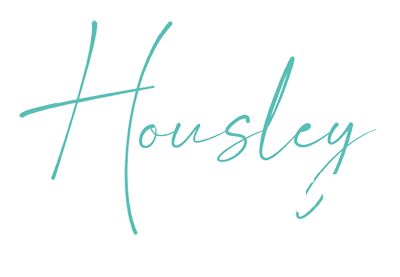 Course Details
Description & Costs
This hands-on, in-person microblading course is for anyone looking to start their career in the permanent makeup industry as a microblading artist.
*There is no prerequisite licensing or training required to attend this course or to receive your Fundamentals of Microblading Certification. You do NOT have to be a licensed cosmetologist or esthetician to receive your Microblading certification.*

Once you obtain your Microblading Certificate of Training through this  course, you can then submit it to your county's board of health to  receive your tattoo license (which is required to perform microblading  on clients).
Your training starts the moment you reserve your spot in class. With four weeks of intensive remote pre-coursework and exercises, led exclusively by our founder and instructor, Shannon Housley,  you'll begin learning the basics of stroke work and brow patterns at your own pace with new assignments each week.
Shannon reviews each weekly microblading training assignment and provides feedback designed to ensure you are practicing and growing as an artist… long before in-person learning commences. With these exercises and assignments, you'll feel confident and ready for your first day in class.
In-person learning consists of 2 days chocked full of both classroom lectures and hands-on work— as well as your own live microblading model. We'll cover essential topics and Shannon is there to answer all your questions along the way.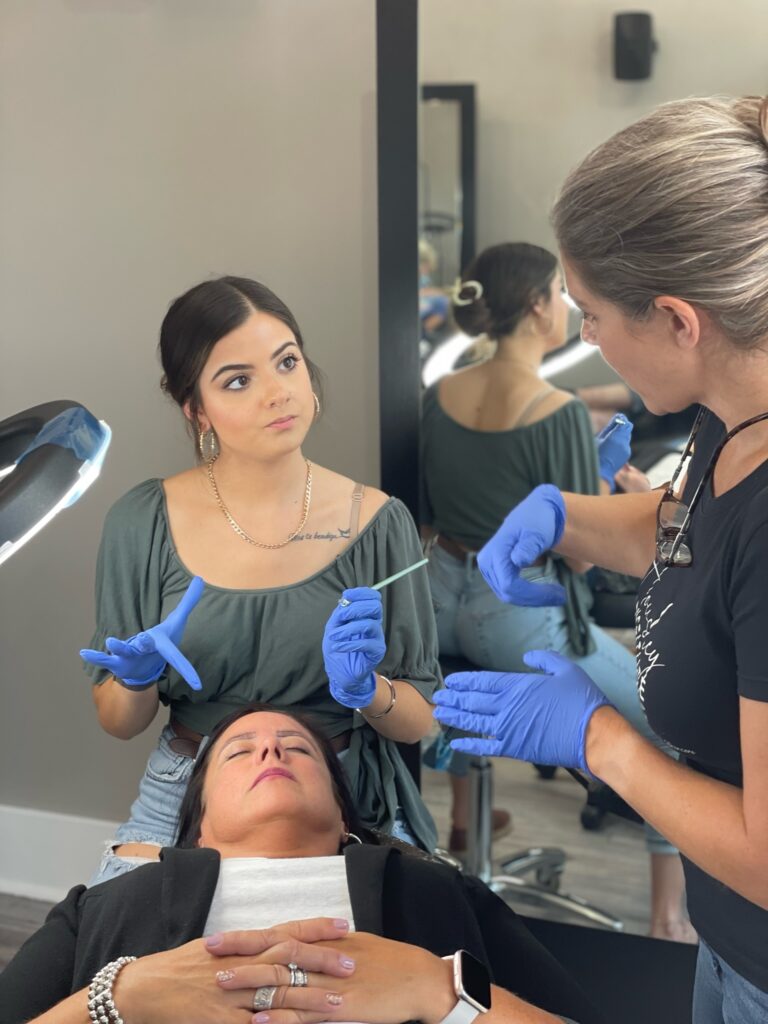 Other brow training academies are packed with 8-10 students. We believe that's too many for individualized attention.  We guarantee a small class size of four students or less, so you'll get the most out of your time with us.
You'll have access to everything you need to hit the ground running after your microblading certification:  business training, marketing, paperwork, policies, and of course, microblading fundamentals.
Your microblading training will conclude when you complete your live model and gain your microblading certification. Shannon will be right next to you for guidance.
Post-class support is key for success. You'll have access to an online Facebook community of other microblading and permanent makeup artists trained by Shannon so that you can ask questions as you begin your career as a microblading artist.
Our in-class Fundamentals of Microblading Course is taught at our beautiful cosmetic/medical tattooing studio and training facility located in beautiful downtown historic Sharonville, Ohio.
Space is limited to a maximum of 4 students. A $500 non-refundable/non-transferable deposit is required to reserve your seat.
Tuition: $2,697
Curriculum Includes:
Skin Composition
Hair stroke Patterns
Brow Mapping
Color Theory & Pigment Selection
Brow Design & Techniques
Student Kit
Training Supplies
2 Lunches & Snacks
Anesthetics
Complete Supply List
Best Practices
Consultations
Setting Up Your Business
Marketing
Post-Training Support
Comprehensive Textbook
Waivers & Aftercare Forms
What's Included:
Microblading Brow Theory Hands-On Instruction
4 Weeks of Personalized, Pre-Coursework
Comprehensive Training Manual
Live Microblading Model
Color Theory
Extensive Brow Mapping & Brow Design Instruction
All In-Class Training Supplies
Starter Kit worth $5,000 in potential client revenue: Tina Davies Ink Set, Numbing Products, Mapping Bow and String, Brow Pencil, Ink Cups, Spoolies, and Microblades
Practice Skin
Certificate Of Completion
Lunch/Refreshments
Shannon will capture candid photos and videos of you doing your first live microblading model. These are yours to post these on social media to build credibility and entice clients so that you can hit the ground running after training.
Duration: 2 Days from 9am to 6pm
Microblading Certification provided: Microblading Fundamentals and Brow Mapping Certificate; certified by Housley Institute owner and Instructor Shannon Housley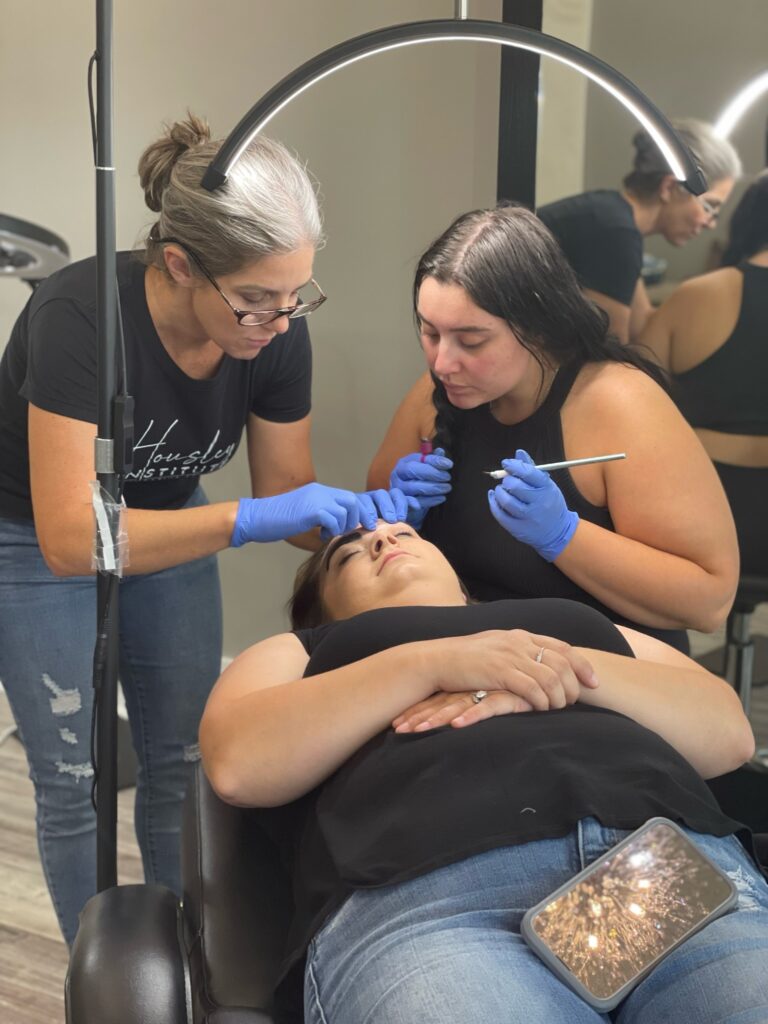 I'm Interested!
Get More Information
You're Covered!
100% Refresher Guarantee
We know there is a ton of information to learn in our training courses.
We don't ever want you to feel overwhelmed if you've forgotten important details or can't remember every piece of information from training.
That's why we offer our "REFRESHER GUARANTEE."
If for any reason during the first 24 months after you completed your course you need a little extra support, you may re-attend the same course free of charge*.
It's easy. Simply schedule a seat in training during the first 24 months after your initial training and audit the entire class session at no cost.
You won't find any other training academies offering this kind of support at no charge, but at Housley Institute, we truly want you to succeed!
*Refresher guarantee does not include meals, supplies, take-home kits, or working on live models.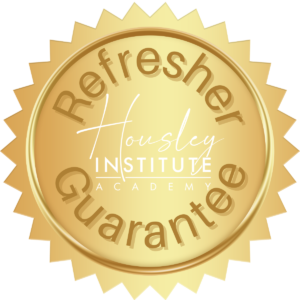 Training Dates
Upcoming Microblading Classes
September 23-24, 2023 (FULL)
October 19-20, 2023 (FULL)
December 9-10, 2023 (1 spot remains)

January 27-28, 2024 (4 spots remain)
February 24-25, 2024 (4 spots remain)
March 23-24, 2024 (4 spots remain)
April  20-21, 2024 (4 spots remain)
May 18-19, 2024 (4 spots remain)
Registration Deadline is the 15th day of the month prior to each class.  (ie: September's Microblading class registration closes on August 15).
---
Deposit: $500
This non-refundable /non-transferable deposit is required to hold your seat. Balance is due at least 14 days prior to Microblading course start date.
Reserve Your Seat
Today!